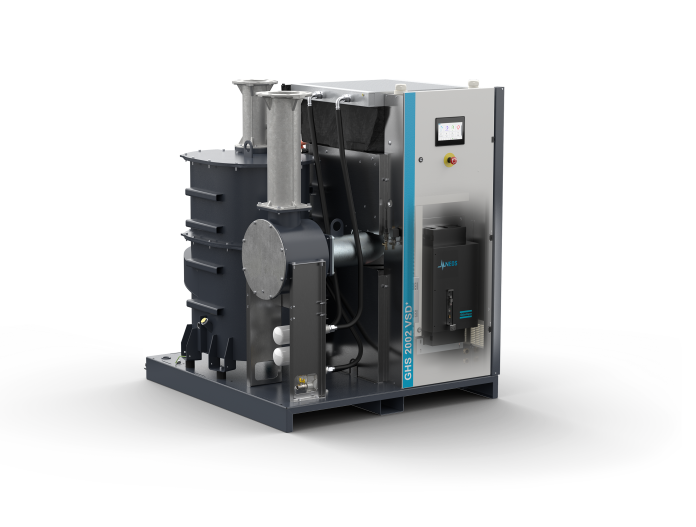 Product Release by Atlas Copco
Swedish vacuum manufacturer Atlas Copco has announced the release of its latest industrial vacuum technology. Its GHS 1402-2002 VSD* series of pumps features a new design for better performance, optimal oil separation, a smaller environmental footprint and an innovative new controller.
The company aims to put its customer "in gear" for Industry 4.0 and says its vacuum pumps and systems are at the forefront of today's connected and digitalized industry.
"This is a forward-looking pump. It is equipped with HEX@TM, Atlas Copco's revolutionary new vacuum controller, making this pump ready for industry 4.0. With a new control system, users of the speed-driven pump type are also well equipped for the comprehensive digitalization of industrial processes," said Product Manager Yuri Vanderveken.
The GHS 1402 – 2002 VSD+ series includes three models: GHS 1402, GHS 1602 and GHS 2002 VSD+h. It boasts impressive intelligent functionalities. Via the controller, users can visualise and set the parameters of the pumps from any smartphone, laptop, PC or tablet via a web browser, regardless of location. Other smart functionalities vary from intelligent scheduling over pump down optimisation to leak detection.
"The GHS 1402-2002 VSD+ features the new Atlas Copco oil-injected screw element. Its innovative compression optimization valves allow for high pumping speeds at rough vacuum," said Vanderveken.
When compared with previous models, the new release boasts higher vacuum performance, lower energy consumption, reduced operating costs and comparatively high efficiencies at all speeds and demand levels.
Its innovative design results in a 15 percent smaller footprint and longer maintenance intervals. The new GHS VSD+ screw pump also contributes significantly to saving energy costs, while an energy recovery system helps recover up to 80 percent of power in the form of hot water and results in lower CO2 emissions. Oil cooling maintains the optimal motor temperature at all speeds. The motor bearings are also lubricated by oil, which eliminates the need for regular relubrication. The motor is enclosed in a housing with IP66 protection. This makes it very resistant, especially in rough and dusty application environments.
Altas Copco designs and manufactures vacuums for industry. Its products are ideal for use in central vacuum systems, for vacuum cooling, for food packaging and thermoformed plastic component production, as well as for vacuum chambers for altitude simulation.