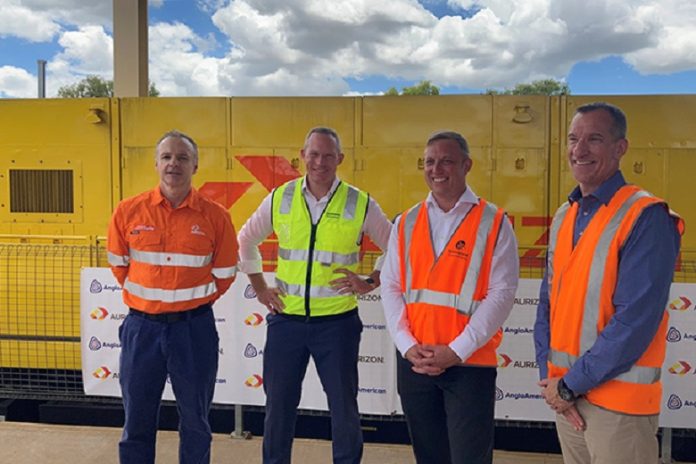 Australia's largest rail freight company, Aurizon and global mining company Anglo American will undertake a study into using hydrogen-powered trains for bulk freight in Queensland.
The two companies have agreed to undertake a Feasibility Study to see if Anglo American's unique hydrogen fuel cell and battery hybrid power units can be used in large haul freight rail operations.
Queensland's Deputy Premier and Minister for State Development Steven Miles said the feasibility study would focus on the potential deployment of Anglo American's hydrogen power technology on Aurizon's Moura rail corridor and also the Mount Isa Rail corridor.
"The Moura corridor operates between Anglo American's Dawson metallurgical coal mine and the Gladstone Port, and the Mount Isa rail corridor operates between the North West Minerals Province to Townsville Port, via Aurizon's Stuart Terminal," Mr Miles added.
"The announcement is more proof that Queensland is committed to capturing every section of the renewable energy value chain."
As part of its commitment to become carbon neutral by 2040, Anglo American is developing green hydrogen solutions for its ultra-class 290 tonne payload mine haul trucking fleet.
Aurizon, which aims to reach net zero operational emissions by 2050, has also commenced research & development for battery-powered trains with a number of industry parties and Australian universities.
Tony O'Neill, Technical Director of Anglo American, said the agreement with Aurizon marked the first time the company's hydrogen power technology could be tested beyond the existing mine haul truck program.
"Displacing our use of diesel is critical to eliminating emissions at our sites and along our value chain," Mr O'Neill stated.
"We believe that our innovative hydrogen-led technology provides a versatile solution, whether for trucks or trains or other forms of heavy duty transport.
Aurizon's Managing Director & CEO Andrew Harding said Hydrogen offers enormous opportunity in decarbonising and continuing to improve the competitiveness of Australia's export supply chains.
"This is especially true for bulk products underpinning the Australian economy including minerals, agricultural products and fertilisers, industrials and general freight," he concluded.
If the Feasibility Study is successful, the two firms' agreement could be extended to more phases of collaboration, such as detailed engineering and the production of a hydrogen-fueled heavy haul locomotive prototype.
Image credit: https://www.aurizon.com.au/news/2021/aurizon-and-anglo-american-look-to-hydrogen-powered-trains-in-queensland