Australia's leading medical and healthcare specific technology provider 3D Medical (3DM) has successfully developed a 3D printable and customised titanium jaw joint for use in corrective jaw surgery.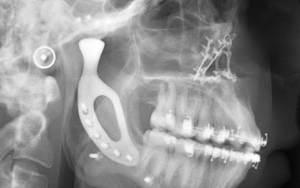 Engineers from the Department of Mechanical Engineering at the University of Melbourne along with Epworth Freemasons' Oral & Maxillofacial surgeon George Dimitroulis, have corrected a young man's rare congenital jaw deformity, using this 3D printed jaw joint that was designed and created in Melbourne.
The 32 year old patient, Richard Stratton, was born with condylar aplasia – missing a jaw joint called temporomandibular joint (TMJ) that resulted in a lack of growth in the left side of his face and a noticeably skewed lower jaw.
Mr Dimitroulis led the surgical team that reconstructed the missing jaw with a custom-made jaw joint replacement.
The procedure was an Australian-first and Dr Dimitroulis said that surgery is at the cross-roads of an exciting era, where an increased use of 3D technology will see customised medical devices become an integral part of healthcare in the 21st Century.
"The successful outcome of this procedure not only achieves a fantastic result for the patient but it also serves to validate the end-to-end business model of 3DM in designing and developing custom implants," said Dr Nigel Finch, Chairman of 3DM, in an ASX Announcement.
"3DM expects to see an increase in cases of this type as leading clinicians and hospitals seek to leverage the data-rich medical images used in patient diagnoses by harnessing computer-aided design and precise 3D printing to more efficiently solve complex clinical problems."
Dr David Ackland, a senior lecturer and researcher in experimental muscle and joint biomechanics at the University of Melbourne, led the engineering design and testing of the joint replacement, and said the biomechanical and clinical results look promising.
"Working closely with maxillofacial surgeon Dr Dimitroulis, we helped to design, engineer and test this entirely new jaw joint prosthesis using state-of-the-art computational modelling we developed at the University of Melbourne," he said.
"We believe the techniques we have developed and the latest 3D printing technology will facilitate a new direction in research and manufacture of implantable devices. This case highlights the talents and capabilities we have here in Australia to design, develop, and manufacture our own high-tech medical devices."