Japanese operator Softbank and Taiwan-based iPhone assembler Foxconn Technology Group have formed a three-way joint venture with one of India's leading business groups, Bharti Enterprises, to develop solar power projects in India.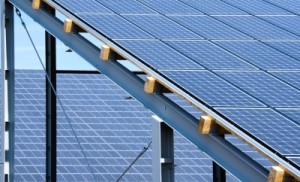 According to the press release, the total investment of the joint venture is set at $20 billion and will aim to set up 20,000 MW of projects over the next 10 years.
Called SBG Cleantech Ltd, the joint venture is set to tap growing demand for cheap electricity using renewable energy sources in the South Asian country.
The announcement comes as India aims to boost its power-generating capacity by 50% to provide continuous electricity to its more than 1.2 billion citizens by 2019.
Masayoshi Son, Chairman & CEO of SoftBank, said the joint venture will "propel India into the future".
"Our eyes are trained on India, given the vast potential that the country offers. We have already made considerable investments in the technology sector here. With this partnership, our goal is to create a market-leading clean energy company, to fuel India's growth with clean and renewable sources of energy. We have joined hands with Bharti Enterprises and Foxconn, two leaders in their respective markets for this venture that will," said Mr Son.
"Harnessing renewable energy is a key pillar in our SER strategy and we are excited to join our industry partners, SoftBank and Bharti, in championing clean energy solutions in India through SBG Cleantech, and supporting the country's efforts to grow its renewable energy industry," said Terry Gou, Founder and CEO, Foxconn Technology Group.
Manoj Kohli, a veteran from Bharti, will be the executive chairman of SBG Cleantech, while Raman Nanda will serve as CEO.
"At Bharti, we believe in projects that have a transformational impact on society. In line with this vision, we are participating in a renewable energy venture with SoftBank and Foxconn which has the potential to transform the Indian economy," added Sunil Bharti Mittal, Chairman, Bharti Enterprises.
"Just as mobile phones have connected every Indian, renewable power has the potential to provide every Indian with access to electricity, SBG Cleantech underlines our commitment to India's growth plans not only by eliminating energy deficit but also providing clean environment to the future generations of India."