Leading orthopaedic implant designer and manufacturer, Global Orthopaedic Technology (Global) has inked an agreement with Materialise to use its Knee Guide System.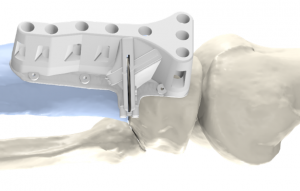 Belgium-based Materialise NV is a leading provider of 3D software and sophisticated 3D printing solutions; its Knee Guide System is a solution that comprises easy-to-use 3D surgical planning software and patient-specific surgical guides for knee surgery.
With over 25 years of experience in 3D planning and printing for medical applications, Materialise developed the Knee Guide System which allows surgeons to efficiently and accurately plan knee surgeries based on the patient's unique anatomy and structural damage.
"The collaboration with Global allows Materialise to help even more surgeons in Australia to discover the benefits that 3D printing can offer in the planning and the execution of total knee arthroplasty. Improving people's lives through meaningful applications of 3D printing has been our mission since Materialise started its activities 25 years ago," said Jeroen Dille, Director of Materialise's Clinical Unit.
Established in 1999, Global Orthopaedic Technology is Australia's largest Australian-owned orthopaedic implant designer and manufacturer.
The company has two research, design and manufacturing facilities in Bella Vista and Seven Hills, in Sydney.
"The team at Global is committed to offering Australia's finest surgeons with new and innovative solutions that can meet their needs, for the benefit of their patients. That's why we are pleased to be partnering with Materialise, for the use of their 3D medical image-based and printing technology for local surgeons utilising Global's APEX™ knee implant. The ability for our surgeons to pre-operatively plan and use patient-specific guides based on their MRI, will deliver optimal clinical outcomes and enhance the patient's overall satisfaction," said Andrew Fox-Smith, Global Chief Executive Officer of Global.