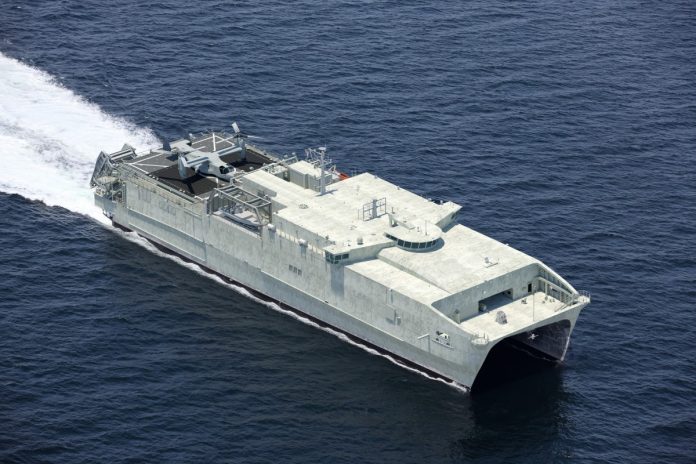 The US Navy has exercised a A$324.6 million fixed–priced incentive (firm target) contract option with Austal USA for the detail design and construction of Expeditionary Fast Transport (EPF) 16.
Austal said the EPF 16 will be the third ship constructed by in "Flight II" configuration, which has enhanced medical and aviation capabilities.
Since 2012, Austal USA has delivered twelve EPF ships to the Navy on time and on budget, and is now building EPFs 13, 14, and 15 at its shipyard in Mobile, Alabama.
The contract for another EPF with increased medical capabilities, according to Austal CEO Paddy Gregg, "highlights both the success of the high-speed vessel platform and its versatility to meet varied mission profiles."
"Austal's Flight II EPF's will further enhance the US Navy's capability and enable a fast response with expanded medical support facilities available for any mission or theatre of operation," Mr Gregg added.
"We are delighted to see the EPF platform being deployed globally and we're excited to begin production of another highly capable ship for the United States Navy."
Construction of EPF 16 is set to commence later this year with delivery projected for 2025.
Image credit: https://www.austal.com/news/us-navy-exercises-us2305-million-contract-option-purchase-16th-expeditionary-fast-transport?fbclid=IwAR0SB6rTVWC8UQQjJEG4uCOnz5nlvp2hFyL499IGijPbFtJLE97gww7QqXs