The head of Australian shipbuilder Austal says lack of government support in Australia would cause them to build defence vessels in their US operations in Alabama.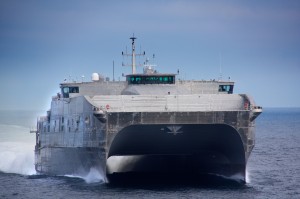 In a report published on West Business, Austal Chief Executive Andrew Bellamy said in the pursuit of a contract with a Middle East nation, Austal had effectively gained access to that government through the US embassy, making it more likely that the ships would be built in the US should a deal be agreed upon.
"Ideally, we'd like to build the ships in Australia," Mr. Bellamy said.
Mr. Bellamy says his job is to make sure Austal's technology is leveraged to the maximum value.
"I'd love to see those products built in Australia but I'm not going to sit back and let those products be built in Germany."
He compared Australia's lack of support in terms of promoting military products to the US which has a "machine" of foreign missions and officials endorsing their exports to friendly nations.
"We are so far short of that in Australia, it's extraordinary," he said. "As long as we get outcompeted by the Europeans and the Americans, business in Australia will suffer."
He emphasized the need to balance foreign affairs and trade when government ministers travel abroad.
"If we've got great technology in this country . . . we need to work much harder at marketing Australian products internationally."
Austal specializes in the design and construction of aluminium vessels including luxury yachts, passenger and freight ferries, and ships for defence forces and government agencies. The company maintains production facilities in Henderson WA, Cebu Philippines and Mobile, Alabama in the US. The company is building warship for the US Navy in Mobile while patrol boats for the Australian Customs are being manufactured at Henderson.