The new $29 billion Chevron-operated Wheatstone Project in Western Australia has created more than 600 local jobs in the State, with about $10 billion in contracts awarded to WA-based businesses.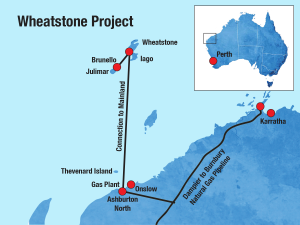 Commerce Minister Michael Mischin announced on Thursday that 628 jobs are expected to be created under the eight new contracts. The work will be based mostly in Perth or onsite in the Pilbara region.
"Since the project began in 2011, Wheatstone has generated more than 4,000 jobs and injected more than $10billion into contracts and purchase orders with local businesses," Mr. Mischin said, quoted in the ministerial statement.
"There are other flow-on benefits to both the local and State economies that will result from the contracts, and more jobs will be created indirectly."
Wheatstone Project, one of Australia's largest resource projects, is located at Ashburton North, 12 kilometres west of Onslow in Western Australia. The project will consist of two LNG trains with a combined capacity of 8.9 million tonnes per annum and a domestic gas plant.
The recently awarded contracts for the Wheatstone Project went to various manufacturing and construction businesses.
The contract with ATCO Structures and Logistics generated 137 jobs and the company will be designing, manufacturing and installing 357 modular units – a project worth $100 million.
"Our proven track record providing large scale turnkey projects in Australia was a key element in winning this contract," said Adam Beattie, Managing Director, ATCO Structures & Logistics Pty Ltd via a PRWeb media release.
Zinfra Group, a leading provider to the utility infrastructure sectors, has entered into an agreement with primary contractor Bechtel for the design and construction of a 132 kV High Voltage Power Cable System for Wheatstone. The subcontract has a value of $30 million and will create about 40 engineering and manufacturing jobs.
Zinfra's Managing Director Tony Beach said they are "extremely excited" to be taking part in the high-profile project.
"Our contribution leverages our vast experience and core capability in design and construction, and draws on our experience in working in remote locations in Australia."
The other businesses that will do work for the project are DBP Development Group (DDG), Ertech, Kiewit Ertech Joint Venture, McConnell Dowell, PSS Group and WA Limestone.
Minister Mischin said Chevron and Bechtel had shown commitment to supporting the communities in which they operated.
The Western Australian Government's Local Industry Participation Framework initiative which was launched in July 2011 has already announced about $53 billion in contracts which have been won by local businesses.
"Although we are witnessing the transition from construction to operational phases across a number of resources projects, the flow of resources-based contracts and orders into our economy is still strong," Mischin said.
"The Government will continue to work closely with project leaders to maximise opportunities for WA-based companies to win work on major contracts."