Austal has announced the delivery of Cape York, the final of eight Cape Class Patrol Boats supplied to the Australian Border Force.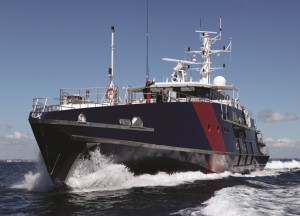 Austal Australia was contracted to design, construct and provide through-life support of eight 58 metre Cape Class patrol boats for the Australian Customs and Border Protection Service in August 2011. The agreement was valued at approximately $330 million.
"The on-time and on-budget delivery of all eight Cape Class Patrol Boats is a credit to our highly skilled team at the Henderson shipyard, which has achieved valuable production efficiencies as the program progressed; clearly demonstrating the benefits of continuous shipbuilding and reinforcing Austal's capability to successfully design, build and sustain multiple naval and border protection vessel programs," said Austal Chief Executive Officer Andrew Bellamy.
"Austal has delivered one Cape Class Patrol vessel approximately every 10 weeks over 2014-2015; which has significantly increased Australian Border Force's capability to reliably deliver on the Border Protection obligations it undertakes for the Commonwealth of Australia. Our national sustainment team, services and facilities continues to grow in line with the Cape Class Patrol Boats coming into service; ensuring the operational availability of the Australian Border Force fleet around the country."
Austal has delivered a total of 72 patrol boats. The company is also one of the tenderers for the $1 billion Pacific Patrol Boat Replacement Program, comprising 21 vessels for delivery to Pacific Island nations from 2017.