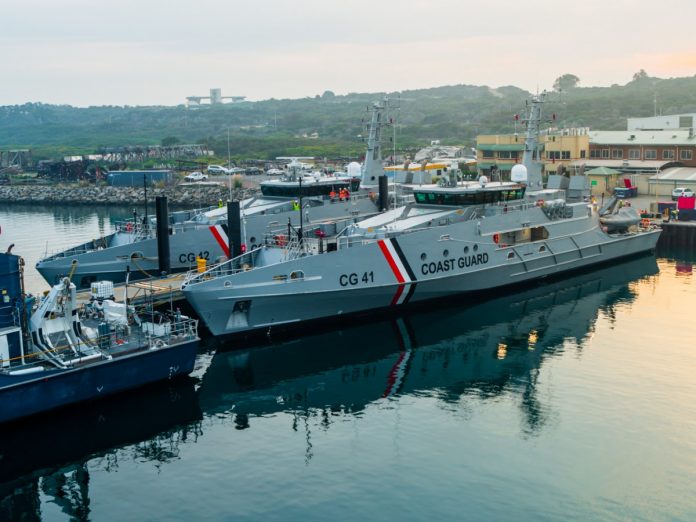 Austal Australia has delivered two Cape-class Patrol Boats to the Trinidad and Tobago Coast Guard (TTCG) at a delivery ceremony held at the company's Henderson shipyard.
The two patrol boats, TTS Port of Spain (CG41) and TTS Scarborough (CG42), are based on the proven 58-metre monohull vessels operating with the Australian Border Force and Royal Australian Navy, with a number of design customisations to meet TTCG mission requirements, including additional armament placements and crew accommodation for up to 27 persons.
According to Austal's statement, both vessels are capable of patrols up to 28 days, with a range of over 3,000 nautical miles and a top speed in excess of 25 knots.
Each vessel has two 7.3 metre rigid hull inflatable boats that may be deployed while underway, for a variety of constabulary missions.
Speaking at the delivery ceremony, Austal's CEO Paddy Gregg said the two patrol boats were the first Cape-class vessels manufactured by Austal to be exported, following the delivery of ten similar vessels to the Australian Border Force and Royal Australian Navy over the past decade.
"The Cape-class is Austal Australia's signature patrol boat design, with twelve vessels now delivered and a further six under construction at our dedicated defence shipbuilding facility in Henderson," Mr Gregg said.
"These two patrol boats for the Trinidad and Tobago Coast Guard are the first Capes we've delivered for an export market and proudly represent the capability of not only the Western Australian defence industry, but Australia's growing sovereign naval shipbuilding capability."
Image credit: https://www.austal.com/news/austal-australia-delivers-two-cape-class-patrol-boats-trinidad-and-tobago-coast-guard