Australian shipbuilder Austal has announced the delivery of the 80-metre commercial vehicle-passenger catamaran to SNC Aremiti Ferry, months ahead of its scheduled release in Q2 FY2014.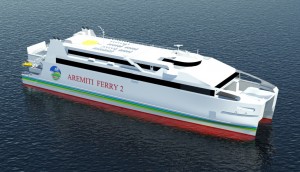 According to the statement from the company the ferry was constructed at Austal's Philippine facility, showcasing its exceptional shipbuilding capabilities in the midst of the tragedy which has recently hit the island-nation.
Austal Chief Executive Officer Andrew Bellamy called the delivery a significant achievement for the Philippine shipyard which constructed its largest vessel since commencing operations in February 2012.
"I am proud that Austal's team in the Philippines has been able to deliver this ferry to our repeat customer, despite the challenges faced, including ensuring the safety of the vessel, shipyard, and our staff during Typhoon Haiyan," Mr Bellamy said.
"We are continuing to progress with construction of four wind farm vessels at the Philippines shipyard and are pursuing ongoing opportunities in commercial vessels and the wind farm vessel market."
The delivery of the ferry to SNC Aremiti Ferry triggered a bullet payment totalling 70 percent of the contracted value. The value of the contract is approximately Euro 35 million according to the news release.
Austal specializes in the design and construction of aluminium vessels including luxury yachts, passenger and freight ferries, and ships for defence forces and government agencies. The company maintains production facilities in Henderson WA, Cebu Philippines and Mobile, Alabama in the US. The company is building warship for the US Navy in Mobile while patrol boats for the Australian Customs are being manufactured at Henderson.