South Australian-made products were on the spotlight over the weekend at an event which showcased the State's manufacturing expertise.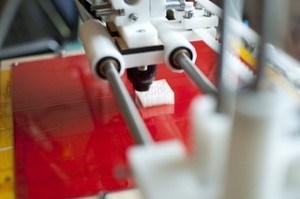 Products including 3D printers, mine detectors and light therapy glasses were featured at the event in Rundle Mall which, according to Manufacturing, Innovation and Trade Minister, Tom Kenyon, focused on the importance of manufacturing to South Australia's economy and highlighted future jobs and skills required in the sector.
"We have world-class manufacturing capabilities in this state – from food and wine production and environmental technologies to automotive and mining products and services," Mr Kenyon said in a media release.
"Manufacturing plays a more important role in our economy than many people may realise, so one of the reasons for this stand is to showcase the range of innovative, niche products that are manufactured right here in South Australia."
The stand featured a range of manufacturing technologies from the State's manufacturing companies including Minelab's mine detectors, Redarc's electronic voltage converters, Re-Time's light therapy glasses manufactured by SMR, Physical Prints' 3D printers and Farmers Union beverages.
The minister said the event was an ideal venue for shoppers to speak with experts and also encouraged the community to support local manufacturing. Visitors also had the chance to sign up to the State Government's 'More than Cars' campaign.
"When we buy South Australian, we put money back into the local economy, helping to create and retain jobs," Mr Kenyon said.