Reports have been circulating that Holden is preparing to announce its decision to pull out of Australia by 2016, but CEO Mike Devereux has offered his assurance that no decision has been made yet on the company's future in Australia.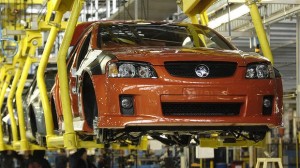 According to a report on News.com.au, Mr. Devereux has assured South Australian Premier Jay Weatherill that they have not yet decided to close Holden's Australian manufacturing operations, despite the information coming from some senior Government ministers that the company will be announcing its shutdown soon.
On Thursday Mr. Weatherill said the Federal Government is trying to force Holden into making the decision to close so it could avoid getting the blame for the thousands of jobs that will be lost.
"It's an absolute disgrace these workers … have to put up with this game playing," he said, quoted in the report.
"Holden's have made it clear that … no decision has been made."
Victorian Treasurer Michael O'Brien says the uncertainty being created over the matter is unhelpful to businesses and consumers.
"There's a lot of speculation around at the moment. I think that speculation is unhelpful," Mr. O' Brien told reporters today.
"If the speculation … was right, why would Mr Devereux bother fronting up before the Productivity Commission and making his case?" he said, quoted in a report on Nine MSN.
Mr. Devereux was due to appear before the Productivity Commission inquiry into the automotive industry on Tuesday to make the case for the appropriate level of industry funding. However a source has told ABC News that Holden wants to leave Australia regardless of any assistance package.
According to a report on Sydney Morning Herald, ACTU secretary Dave Oliver said urgent action was needed to give certainty to the tens of thousands of Australians who work in the industry.
"It is completely unacceptable that unnamed senior government ministers are casting doubt over the future of Holden despite industry minister Ian Macfarlane denying the reports," Mr. Oliver said.
"The government's job is to support local jobs, not undermine them."
Meanwhile, Prime Minister Tony Abbott remains firm in his stance that Holden has already gotten enough support from taxpayers and ruled out any extra federal government assistance to the company.
"The message we are getting from Holden is that they are in two minds," Mr Abbott said on Melbourne Fairfax radio 3AW.
"I do wish Holden would clarify their intention because at the moment they have got everyone on tenterhooks."