Austal USA, the American arm of Australian shipbuilder Austal Limited, has been awarded a contract for US$51,684,797 to its 11-ship $3.5 billion Littoral Combat Ship (LCS) contract for the US Navy.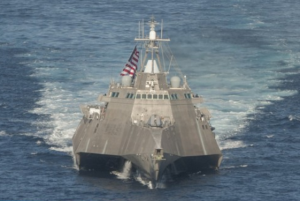 The global defence contractor said the contract modification is expected to increase to nearly US$200,000,000 over three years and includes providing design services for upgrades to the LCS and preliminary design for the US Navy's future Frigate.
"This contract directly reflects our customer's confidence in Austal's ability to build and support highly advanced ships and to meet today's changing requirements," said Austal CEO Andrew Bellamy in a statement to the ASX.
According to him, work will commence immediately and will be performed at Austal's ship manufacturing facility in Mobile, Alabama.
"Work will begin immediately based on the US$51,684,797 funding with an additional US$14 million funding expected in March 2016 with the remaining funding expected in two yearly increments 12 months after the initial awards. This agreement is a key indicator of our maturing support business in the US," Mr Bellamy said.
Two months ago, Austal was contracted by the US Navy to procure main propulsion engines, generators, water jets, main reduction gears and other long-lead time items for its 11th expeditionary fast transport ship; the contract was valued at US$53.5 million.
Austal specialises in the design and construction of aluminium vessels including luxury yachts, passenger and freight ferries, and ships for defence forces and government agencies. The company maintains production facilities in Henderson WA, Cebu Philippines and Mobile, Alabama in the US.