Two months ago, Austal – the global defence prime contractor and designer and manufacturer of defence and commercial ships – launched the fifth Cape Class Patrol Boat (CCPB), Cape Jervis, for the Australian Customs and Border Protection Service.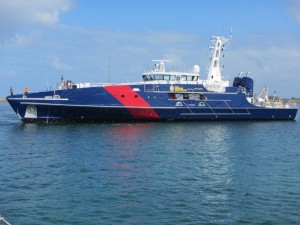 Yesterday, the company announced that it has launched the sixth in-series CCPB – Cape Leveque, named after the northernmost tip of the Dampier Peninsula in the Kimberley region of Western Australia.
"The on-time delivery of Cape Leveque and continued efficiencies across the program reinforce Austal's capability to reliably build and sustain naval and border protection vessels," said Austal Chief Executive Officer Andrew Bellamy.
"Our team at the Henderson shipyard have again demonstrated their ability to meet contracted timeframes. Delivering on time ensures that the Australian Customs and Border Protection Service can reliably continue to deliver on the Border Protection obligations it undertakes to the Commonwealth of Australia."
Austal Australia was contracted to design, construct and provide through-life support of eight 58 metre Cape Class patrol boats for the Australian Customs and Border Protection Service in August 2011.
Under the terms of the agreement, valued at approximately $330 million, all boats should be completed and operational no later than August 2015.
The company said that the remaining two Cape Class vessels are moving into the final stages of construction and will be delivered progressively through to late 2015, in accordance with the contract.