Following the announcement that the second-in-series Cape Class Patrol Boat has been officially named Cape Byron, the global defence prime contractor and the designer and manufacturer of defence and commercial ships, Austal, has launched Cape Nelson.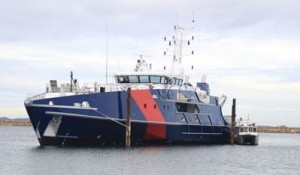 According to the media release, Cape Nelson is the third-in-series Cape Class Patrol Boat that was launched at Austal's Australian Defence Facility in Henderson, Western Australia last Monday, confirming that the Cape Class Program is progressing according to schedule.
Austal was contracted to design, construct and provide through-life support of eight 58 metre Cape Class patrol boats for the Australian Customs and Border Protection Service in August 2011.
Under the terms of the agreement, valued at approximately $330 million, all boats should be completed and operational no later than August 2015.
The first vessel that was launched in January 2013 was named Cape St George in March 2013, reports Naval Technology. All Cape Class patrol boats — that will be named after eight capes in Australia: Cape St George, Cape Byron, Cape Nelson, Cape Sorell, Cape Jervis, Cape Leveque, Cape Wessel and Cape York — will be deployed across the Australian exclusive economic zone (EEZ) to conduct security and surveillance operations.
"This is another special milestone that represents a significant achievement by many people from both Commonwealth and industry that have come together to work as a high performing collaborative team to make this possible. Cape Nelson is a state of the art maritime defence capability that will play a significant role in protecting Australia's borders from multiple maritime threats. It has been designed to have greater range, endurance and flexibility — as well as enhanced capability to operate in more severe sea conditions and across longer range — than the current fleet of Customs and Border Protection vessels and indeed Royal Australian Navy Armidale Patrol Boat fleet," said Austal President and General Manager Graham Backhouse.
"The Cape Class Patrol Boat program reinforces our strategy of being a Global Defence Prime Contractor that designs and constructs ships, integrates systems and provides ongoing support. Austal prides itself on being competitive and attaining the right balance between export and domestic demand, which we believe is the only sustainable model for the long-term future of naval shipbuilding in Australia and the capability it delivers. The Cape Class program is a major component of this, while the recent award of a contract to design and construct two 72 metre High Speed Support Vessels for a Middle East customer reinforces our ability to compete and win defence work in the competitive global market."