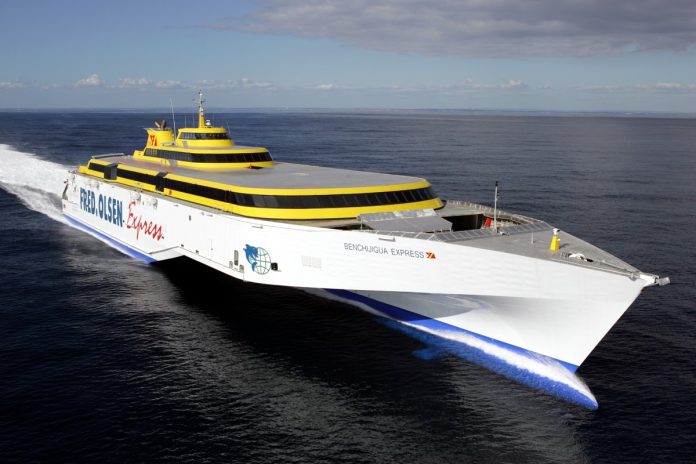 Austal has secured an A$190 million contract to design and build two 117 metre high-speed vehicle passenger trimaran ferries for Fred Olsen S.A. of the Canary Islands, Spain.
The two vessels will be the second and third trimarans to be delivered to Fred Olsen S.A. who already operate the world's first and largest passenger trimaran, the Benchijigua Express, which was designed and built by Austal in 2005.
Commenting on the latest order, Austal Chief Executive Officer David Singleton said:
"It is truly exciting to announce this major shipbuilding contract with Fred Olsen, who had the courage and foresight to work with Austal's advanced trimaran technology in developing the Benchijigua Express in 2005," Mr Singleton stated.
"The Benchijigua Express has become an industry benchmark for blue-water commercial ferry operations, exceeding expectations for performance, speed and customer experience in the Canary Islands."
Austal Vice President of Sales and Marketing Ben Marland said the two new trimarans will each be capable of transporting over 1,100 passengers and up to 276 cars at speeds of up to 38 knots.
"This is a watershed contract for our next generation trimaran design that will deliver new levels of seakeeping, passenger comfort and efficiency, and proves the trimaran is the right tool for the job in the challenging sea conditions of the Atlantic. It is a game-changer in the market," he concluded.
Construction of the new trimarans will commence in 2018, with the vessels to be delivered in 29 and 36 months.
According to Austal, the build location for the vessels will be announced separately.
Image credit: www.austal.com/news