Australia has picked Britain's BAE Systems to carry out heavy maintenance of Lockheed Martin Corp's F-35 fighter jet in Australia from 2018 and Tasman Aviation Enterprises (TAE) to service its engines.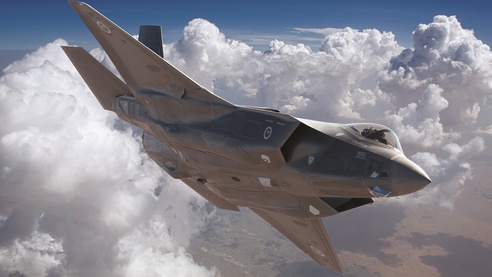 TAE is a leading aerospace engine maintenance service provider, supporting both military and commercial aircraft in the Asia Pacific region.
The Pentagon announced in December that Australia would handle heavy maintenance for the jets and their engines in the southern Pacific, while Japan would handle that work in the northern Pacific.
Work under the contract will be undertaken in Williamtown, NSW, where BAE Systems currently supports the total sustainment of the Hawk MK 127 Lead-In Fighter fleet.
"BAE Systems will continue to work closely with Australia's Joint Strike Fighter Division, the F-35 Joint Program Office (based in the United States of America) and Lockheed Martin Aeronautics in the delivery of Regional Depot JSF Airframe Maintenance, Repair, Overhaul and Upgrade," reads the company's media release.
"We are delighted to have been assigned this substantial scope of work. Our proven fast jet aircraft maintenance capabilities in Williamtown, combined with our strong commitment to working collaboratively with Australian industry, ensures that the international JSF Partners and Foreign Military Sales (FMS) customers will have ready access to a strategically important, first-class Regional Depot," said David Allott, Chief Executive, BAE Systems Australia.
Defence Minister Kevin Andrews congratulated both BAE Systems Australia and TAE, pointing out that BAE Systems Australia was one of Australia's leading Defence firms.
"The F-35 is the most advanced fighter aircraft in development or production anywhere in the world and securing this work in Australia is a great outcome for these companies. This announcement comes on top of the US$433 million that Australian companies have won in production and development contracts to date. It represents another positive economic benefit of Australia's participation in the F-35 Program," the Minister said in a media release.
"With the F-35 global support system now being stood up and with our first aircraft due to arrive in Australia in 2018, the next few years will see more opportunities for Australian industry to support not only Australia's F-35s but those in our region and around the globe. The assignment of regional maintenance, repairs, overhauls and upgrade responsibility to BAE and TAE will enable them to demonstrate the capability and capacity of Australian industry to support this leading edge capability."
Although details of the expected revenues for the companies were not contained in the announcement, Reuters reports that former Australian Defence Minister David Johnston in December said Australia's defence industry could win more than $1.5 billion in F-35-related production and support work over the life of the program.