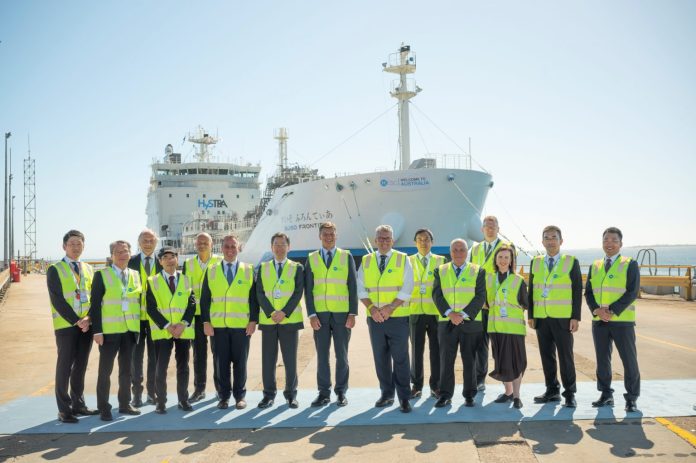 Australia's hydrogen industry has marked a major milestone with the first shipment of liquid hydrogen from Victoria to Japan.
The first purpose-built liquefied hydrogen carrier, the Suiso Frontier arrived in the Port of Hastings from Kobe, Japan on Friday.
The ship is a key component of the Hydrogen Energy Supply Chain (HESC) Project and will carry liquefied hydrogen produced in the Latrobe Valley back to Kobe, Japan.
It has the capacity to hold 1250 cubic metres of liquid hydrogen kept at minus 253 degrees.
The HESC pilot project launched in 2018 to produce hydrogen gas from brown coal in Victoria's Latrobe Valley through a coal gasification and gas-refining process
In early 2021, the HESC Project began successfully producing liquefied hydrogen from Latrobe Valley coal. It aims to produce 225,000 tonnes of clean hydrogen each year and has the potential to make Australia a global leader.
"The HESC project is key to both Australia and Japan and our hydrogen industries. In addition to our Government's support for HESC, we have recently established the Australian Clean Hydrogen Trade Program and committed up to $150 million to the first round that will focus on clean hydrogen supply chains with Japan," said Prime Minister Scott Morrison.
"The HESC project puts Australia at the forefront of the global energy transition to lower emissions through clean hydrogen, which is a fuel of the future."
The Australian government announced further funding of $7.5 million to support the next $184 million pre-commercialisation phase of HESC and a further 20 million for the next stage of the CarbonNet project.
According to the official announcement, the 225,000 tonnes of carbon-neutral liquefied hydrogen (LH2) produced by HESC in a commercial phase will help reduce global emissions by around 1.8 million tonnes per year, or the equivalent of emissions from 350,000 petrol cars.
"The HESC project and the arrival of the liquefied hydrogen carrier today cements Australia's position as a world leader in hydrogen," said Minister for Industry, Energy and Emissions Reduction Angus Taylor.
"The International Energy Agency projects hydrogen demand to double by 2030, and today's arrival of the liquefied hydrogen carrier ushers in a new era of clean energy exports to create new jobs and opportunities for Australians," added Assistant Minister to the Minister for Industry, Energy and Emissions Reduction Tim Wilson.
The HESC project partners are: Kawasaki Heavy Industries, Ltd (KHI), Electric Power Development Co., Ltd. (J-POWER), Iwatani Corporation (Iwatani), Marubeni Corporation (Marubeni), AGL Energy (AGL) and Sumitomo Corporation (Sumitomo). Royal Dutch Shell (Shell), ENEOS Corporation and Kawasaki Kisen Kaisha, Ltd. (K-Line) are also involved in the Japanese portion of the project.
"HESC Project partners thank the Victorian, Federal and Japanese governments for their enduring support, along with the communities of the Latrobe Valley and Mornington Peninsula for being part of this momentous project," said Yoshinori Kanehana, Chairman of Kawasaki Heavy Industries Ltd on behalf of the HESC Project Partners.
"The arrival of the Suiso Frontier marks the dawn of Australia's hydrogen industry."
Image credit: https://www.hydrogenenergysupplychain.com/dawn-of-australias-hydrogen-industry/