Japan's Prime Minister Shinzo Abe met with his Australian counterpart Tony Abbott on Tuesday to sign agreements bolstering defence and trade ties and commencing a new era in the relationship between the two nations.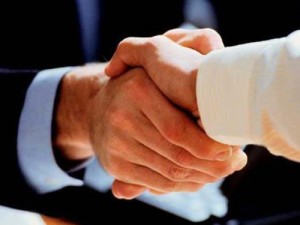 "Today, Japanese Prime Minister Abe and I signed an historic free trade agreement between Japan and Australia. Australia owes much of its economic prosperity to our trade and investment with Japan over the last 50 years. Japan is our third largest source of foreign investment; it was our largest trading partner for more than 40 years and Australian resources such as coal and iron-ore have helped Japan become an industrial powerhouse," said Prime Minister Tony Abbott in a media release.
"The Japan-Australia Economic Partnership Agreement (JAEPA) was finalised during my visit to Japan earlier this year and today's signing brings us another step closer to realisation of the benefits of the Agreement for Australian and Japanese consumers, families and businesses. This is the first free trade agreement that Japan has made with a major developed economy."
Mr Abe addressed the Australian Parliament in Canberra yesterday, calling for "the vast seas and skies linking the Pacific and Indian oceans to be 'open and free'", the ABC reports.
"Let us walk forward together – Australia and Japan with no limit – yes, we can do it. In everything we say and do we must follow the law and never fall back into force and coercion. When there are disputes, we must always use peaceful means to find solutions," he said.
Mr Abe is signing economic and security treaties with his Australian counterpart during his three-day visit to Australia.
A free-trade agreement that will gradually reduce Japan's nearly 40 percent tariffs on Australian exports of beef, and axe Australia's tariffs on Japanese-made vehicles, household appliances and electronics was also inked.
"For Japan, the Agreement means even better access to the Australian market for its manufactured goods. For Australia, it means better access for our beef, dairy, wine, horticulture and grain products. Freer trade means more economic growth and more economic growth means more prosperous people and fairer societies," the Prime Minister said.
The defence deal involves the transfer of military equipment and technology.
"Prime Minister Abe and I also signed an agreement to deepen our defence science, technology and materiel cooperation. The Australia-Japan defence relationship, based on shared values and interests, is an important contribution to peace and stability in the Asia Pacific."