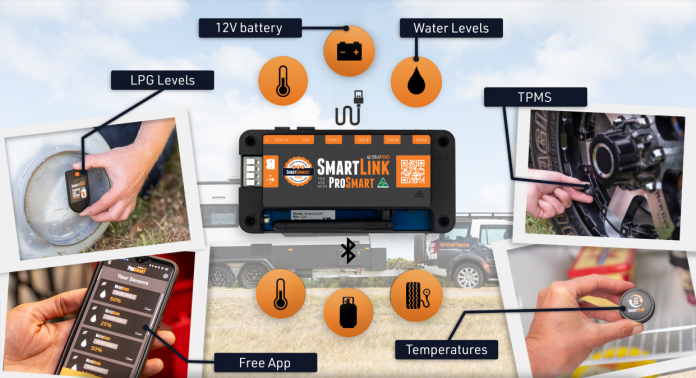 Media Release
BMPRO, Australia's leading designer, manufacturer, and supplier of RV power solutions, is transforming Australian adventures with the launch of revolutionary technology ProSmart. ProSmart brings the concept of a smart home to 'on-the-road' travellers – equipping a RV, caravan, 4WD or boat with technology to monitor 'household' systems.
"Tracking the efficiencies across all amenities within caravans and RV's is ensuring that Australians are able to take advantage of the expansive landscape, and travel for longer period of time without the inconvenience and worry around depleting levels of energy consumption," said David Bayliss, Brand Ambassador of BMPRO.
"App-based energy monitoring mechanisms are providing safer and more sustainable travel adventures for all RV and caravan adventurers, along with their 4WD and boating counterparts. The luxury of being able to travel for longer periods of time with improved efficiencies in vehicle management."
Designed to maintain the comfort levels of off-grid travels and/or improve the efficiency of working in remote locations, ProSmart allows individuals to monitor both wired and Bluetooth sensors, ensuring a trouble-free journey or proper resource management regardless of WIFI connection.
ProSmart sensors can be used with any power management system or with a 12V battery/power supply – allowing it to be installed across any vehicle. Beyond this, ProSmart is inclusive of a user-friendly app that enables users to monitor various functions such as tyre pressure, gas bottle levels, temperature, water levels and battery status. This can be paired with up to 40 SmartConnect Bluetooth sensors, connect up to 4 water tanks, a 12V battery and a wired temperature sensor to monitor vital parameters all at your fingertips.
The technology not only brings lifestyle efficiencies but also business outcomes. ProSmart's benefits extend beyond its suitability for campers to also include those in the boating and agriculture space.
"Better control over energy consumption and assets such as water tanks or containment solutions, enables businesses to pre-empt requirements, and actively determine in real-time actions that ensure greater productivity and efficiencies," said Bayliss.
The innovation enables caravanners to monitor appliances that run their heaters and fridges on gas, café owners using outdoor equipment or a farmer looking to efficiently manage agricultural devices. It provides the simplicity of monitoring levels across a range of functions without the difficulty of decoding complex specifications. ProSmart can either be added at manufacturing level, upgraded with a dealer or upgraded by the customer at a later stage based on specific DIY requirements.
With the unforeseen effects of the COVID-19 pandemic and subsequent lockdowns, people are now rethinking how and where they travel – moving towards adventures on-shore. As Australia's most recognisable RV management solutions provider, backed by 50 years' experience delivering power solutions and inspired by the great Australian outdoor – BMPRO's latest innovation is designed to efficiently manage adventures in a way not seen before.