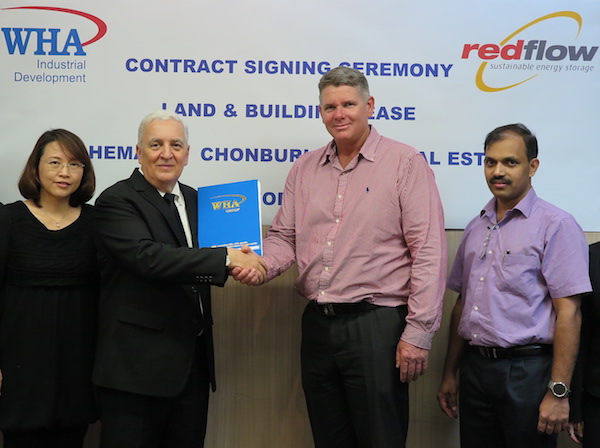 Australian flow-battery startup Redflow has started installing battery production equipment at its new factory in the IEAT free trade zone in Thailand, 110km southeast of Bangkok.
The three-year lease agreement on the 1500-square-metre building was signed recently by Redflow CEO Richard Aird and Mr David Nadone, CEO and President of Hemaraj Land and Development Public Co Ltd, a subsidiary of WHA Corporation.
Redflow, which has also obtained all required Thai regulatory approvals to operate its factory within the free trade zone, flew in an engineering team from its Brisbane office to Thailand to assist its manufacturing partner MPTS with installing and commissioning the equipment.
Redflow manufactures the world's smallest zinc-bromine flow batteries, marketing them as ZBM2 batteries for commercial, industrial, telecommunications and grid-scale energy storage, and as ZCell for residential energy storage in Australia.
The company said it is on track to commence initial operation by the end of this year.
Image credit: redflow.com