Queensland electric vehicle (EV) systems manufacturer Tritium has partnered with Shanghai-based electric product manufacturer SSE to role out its ground-breaking Veefil fast charge technology on a global scale.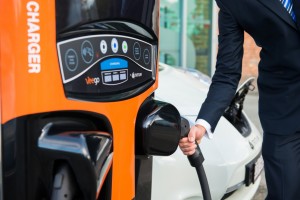 The Veefil® Electric Vehicle Fast Charger — developed over 10 years and backed by a $1.15 million Early Stage Commercialisation grant — is set to make its European debut at the Intersolar 2014 conference in Munich between 4–6 June.
According to the article on the Schornsteinfegerweb.de, the collaboration with electric product manufacturer SEE will see the Veefil® Electric Vehicle Fast Chargers produced at volume and distributed globally, whilst also maintaining its high-quality build specification.
"This is the coming together of a high-performance product with a high-quality manufacturing capability. The intention of the partnership is to address the cost barriers that currently exist in the electric vehicle charging market, without compromising on the quality of the product," said David Finn, Managing Director at Tritium.
"Having designed Veefil® from the ground up, Tritium has full control of all product components, presenting a unique opportunity to take advantage of SSE's extensive experience in power electronics manufacturing."
Launched in 2013, the system has the ability to charge an EV 20 times faster than plugging it into the wall at home, and to add 50km range to an EV battery in just 10 minutes. It is designed for use in areas where motorists will want to enjoy the convenience of fast charging, such as shopping centres, coffee shops, airports and highway service centres. In addition, it is attractive to fleet operators who will reduce the time their assets are off-line from 3 hours to 10 minutes.
According to the article on CleanTechnica, the Veefil® Electric Vehicle Fast Charger features unique liquid-cooled technology which allows it to function in -20ºC to 50ºC; increasing reliability and reducing maintenance in the process. It has the smallest footprint of any EV fast charger and weighs only 165 kg — at least half the weight of most other EV fast chargers.
Last month, the charging system won an award at the 2014 Good Design Australia Awards, beating out products like the Audi A3 Sedan and the new Melbourne e-class tram.