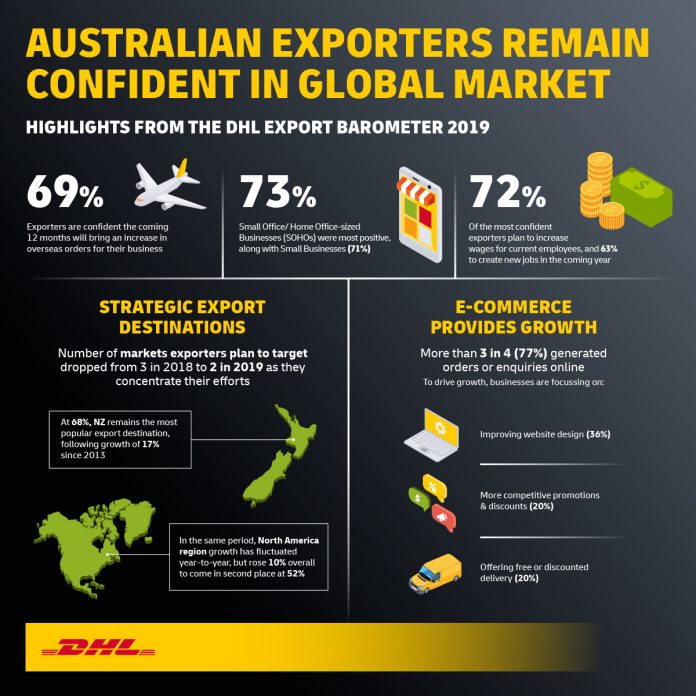 A new report conducted by ACA Research has found that Australian exporters maintain a fifth consecutive year of above average levels of confidence (69%) since recovery from the Global Financial Crisis, despite fall from a record 75% in 2018.
The DHL Export Barometer 2019, which surveyed 920 Australian exporters online between 21 August and 5 September this year, has found that Australia's export industry is shaping up for another strong year with confidence running high, despite an increasingly complex international landscape.
Looking at the different sectors in 2019, the report found that confidence is highest among consumer goods businesses (75%), with agriculture (71%) and services (70%) following close behind.
According to the report, mining sector confidence experienced an upturn, with confidence growing to 65% from 50% in 2018. Meanwhile, the outlook for exporters in the manufacturing sector dropped 9% to sit at 63% this year.
As in previous years, larger, more experienced exporters are less optimistic about future orders, with smaller-sized businesses and those with shorter exporting tenures feeling most positive.
Notably, the report found that exporters are becoming more strategic when selecting export destinations, with the average number of markets targeted now at two per business.
The favoured destination since 2013, New Zealand is the only export destination that has seen a continuous increase in trade, rising 17% to be used by 68% of Australian businesses. During the same period, North America has experienced ups and downs, but rose by 10% overall.
The report also notes that online business is booming, with Australian exporters continuing to embrace e-commerce and 77% of those surveyed generating orders on the internet.
The figure is similar to 2018, but exporters are now pushing to raise the bar by actively improving their online systems and boosting the sophistication of their online marketing, especially among SOHO businesses.
All in all, the DHL Export Barometer 2019 shows Aussie exporters are preparing for another good year with businesses continuing to grow and support the country's economy by delivering new products, creating more jobs and boosting wages.
Image provided