This year's Good Design Awards were announced at a gala event in Sydney on 28 May, in association with VIVID Sydney. The most coveted award of them all — the 2014 Good Design Award of the Year — was given to Australian iconic bathroom maker, Caroma and renowned Australian industrial designer Marc Newson.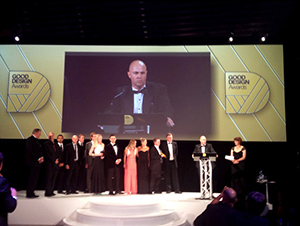 According to the news release by Good Design Australia, this year's Good Design Awards were mainly focused on highlighting how design can play a key role in helping businesses, manufacturers and service providers grow and earn their rightful place in the competitive market.
"This a stunning example of an iconic brand taking design seriously and placing it at the core of their business strategy. The outcome is a beautifully resolved design language across the entire suite of products in this range. The outcomes of this design project will extend the brand value of Caroma and reinforce their commitment to original design and cutting edge innovation in what is a very competitive market segment," said the judges.
"This bathroom range is a great example of how a good designer, with the enthusiastic support of a determined client, can enhance the usefulness and appeal of just about any product. The range is exquisitely designed and made. Caroma has gone the full distance and followed through to the last detail. These products function smoothly and are beautifully resolved — certainly a great example of "form following function". The materials, graphics and mechanisms are up to date and the execution is faultless."
According to Dr Brandon Gien, CEO of Good Design Australia, the Caroma Marc Newson Bathroom Collection — a 22-piece collection comprised of toilets, tap ware, showers, baths and a urinal — is the perfect example of how design can boost an everyday product's competitiveness.
"So many products in this year's program were clearly born from a planned and considered design process that sought to not only create a beautiful, stylish and functional product or service, but also address business and commercial challenges to help the business grow and prosper," Dr Gien said.
"It's great to see so many companies investing in design in this way and maintaining such a high standard. This year we were proud to recognise 77 products with a Good Design Award."
According to the press release by Caroma, the Caroma Marc Newson bathroom-ware range has also won a coveted iF Product Design Award from the International Forum Design in Hannover, Germany.