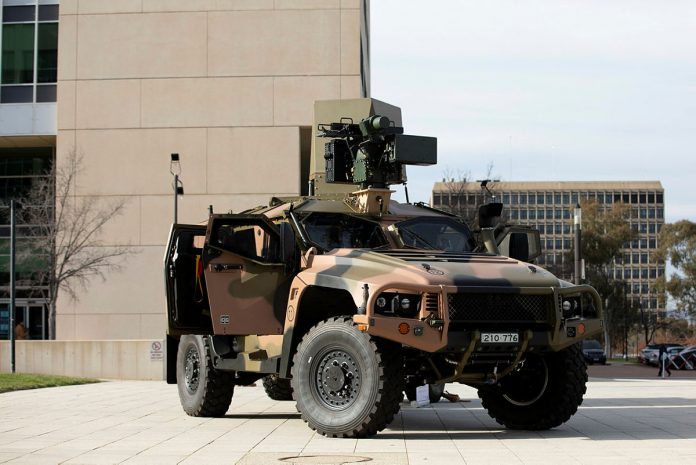 The Australian designed and manufactured Hawkei Protected Mobility Vehicle has received approval from the Federal Government to enter full rate production at Thales' Protected Vehicles facility in Victoria.
The approval comes after the Hawkei performed exceptionally well throughout comprehensive ballistic and blast testing, meeting Defence's stringent requirements for protection.
The manufacturing of Hawkei supports 210 jobs at Thales's Bendigo site, including engineers, vehicle assemblers, fabricators, electricians and painters as well as around 180 jobs along the vehicle's extensive Australian supply chain.
According to Thales, over $50 million has been invested in the production line and development of the vehicle, which demonstrates the deep engineering and manufacturing expertise that is crucial to Australia's sovereign defence industry, and vital to delivering a capability advantage to the Australian Defence Force (ADF).
Minister for Defence, Senator the Hon. Linda Reynolds CSC said it is another example of Defence and defence industry managing business practices in a COVID-19 safe manner to continue delivering ADF capability.
"This is a highly effective capability being delivered in partnership between Defence and industry that builds on Thales's iconic Bushmaster, which has been highly successful on operations overseas and exported around the world," Minister Reynolds said in a statement. 
"The Hawkei is a significant enhancement to existing land capability that will provide superior mobility, survivability and communications, while protecting the lives of our soldiers when operating in increasingly lethal and complex environments."
Minister for Defence Industry, Melissa Price said the project demonstrates the Morrison Government's commitment to maximising opportunities for Australian defence industry.
"The manufacture and ongoing support of the Hawkei vehicle creates significant long-term opportunities for Australian industry, including potential export opportunities, as we have seen with the Bushmaster vehicles," Minister Price said.
"This Government is investing in the skills and knowledge base of Australia's defence industry and delivering an internationally competitive and sustainable sovereign Defence industry."
Meanwhile Thales Australia Chief Executive Chris Jenkins welcomed the Government's announcement and thanked the Australian suppliers that have supported their operations.
"I want to thank the Australian Defence Force and the Government for backing the Australian designed and manufactured Hawkei. To reach this point we've had to come through an incredibly demanding testing process, with the added challenge this year of keeping our facilities operating through the Covid pandemic," Mr Jenkins said.
"Our whole organisation has been focussed on delivering Hawkei and its world leading capability to the ADF. I also want to thank all of our Australian suppliers – by backing Hawkei the ADF and the Government are backing the ability of Australian industry to design and manufacture advanced capability in Australia."
Approximately 50 vehicles per month will be manufactured out of the Thales Protected Vehicles facility in Bendigo until mid-2022.
Image from the Department of Defence