A Group of Australia's top business leaders have urged consumers to start the New Year on a positive note and express their gratitude to their best local businesses by nominating them for the country's most prestigious business awards.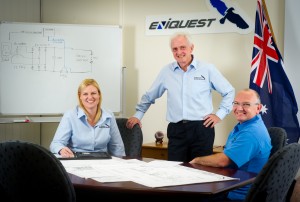 In the wake of nominations for the prestigious 2014 Telstra Business Awards, 120 of Australia's most successful small and medium business owners spoke of what they think makes a brilliant business and which attributes should people take into consideration when nominating a business.
"I would look for honesty and integrity of the business and in what it is offering. I would look for its difference. Making a business brilliant is very complex and there is no simple recipe. It is how all of these aspects work together," said Don Pulver, Managing Director of Sunshine Coast power generation products manufacturer ENIQUEST and a Telstra Awards Alumni.
Most of the business leaders named passion, customer service, innovation and business planning as the most desirable attributes a successful business should embrace.
According to Will Irving, Group Managing Director of Telstra Business and Telstra Business Awards Ambassador, Telstra was committed to the Awards because they provide a unique chance for small and medium businesses to grow and prosper.
"Recognising successful small and medium businesses, that are an example to others, benefits our future as they are the backbone of Australia's economy and employment. Rewarding innovative thinking and doing encourages businesses to push the boundaries of what's possible," Mr Irving said.
"The nomination process is really simple, only takes a minute but can make a real difference to the business involved."
For Peter Strong, Executive Director of The Council of Small Business Australia (COSBOA), small businesses are all about the people, those who create, who innovate and who have imagination are going to be found in the small business community.
"Small businesses are leading the way in many areas, particularly in exporting where they are heavily involved, and many are under the radar. When a business wins an award, it's really special because someone has encouraged it to enter and it's an award for the people in the business – the owner and the employees," Mr Strong said.
Nominations for the 2014 Telstra Business Award can be made at http://www.telstrabusinessawards.com/ or by calling 1800AWARDS.
Entries for the 2014 Telstra Business Awards can be submitted from February 3rd until March 31st.