The Australian Industry Group (AiGroup) has released its monthly Performance of Manufacturing index (PMI) for August which showed an increase of 1.3 points to 51.7 which means the index is above the 50 expansion/contraction zone for the second month in a row.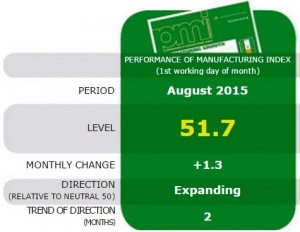 "A second month of expansion is encouraging for Australian manufacturing. It is also positive for the economy overall which requires a broader base of growth as the mining investment boom continues to unwind. The expansion indicated by the rise in the Australian PMI® in August was driven by greater production, employment and new orders," said Ai Group Chief Executive, Innes Willox.
"Manufacturers are hoping that these positive directions are built upon in coming months and are sufficiently strong to overcome continued headwinds from the reduced orders for materials and equipment from the mining sector and automobile producers."
According to AiGroup, three of the eight manufacturing sub-sectors expanded: food, beverages & tobacco (down 4.7 points to 54.2); wood & paper products (up 1.8 points to 70.0); and textiles, clothing, footwear, furniture & other manufacturing (up 6.0 points to 55.2).
Petroleum, coal, chemical & rubber products expanded in July, but returned to contraction in August (down 2.4 points to 48.3).
Four of the seven activity sub-indexes expanded in August: new orders (up 3.0 points to 52.9); production (down 3.0 points to 51.2); supplier deliveries (up 2.4 points to 53.0); and manufacturing employment (up 3.7 points to 51.3).
Manufacturing sales also contracted (down 5.3 points to 48.6) and stock levels (up 0.5 points to 48.4) reduced for a seventh consecutive month. After three months of expansion, manufacturing exports went down 7.1 points to 44.