THE FEATURED SERIES
Welcome to the Feature Series for Australian Manufacturing, where each month we will shine the focus on one particular Australian manufacturer and breakdown what really gives them the competitive advantage, in an otherwise difficult sector.
This month we are focusing on CMP Controls, an Australian-based manufacturer of lighting control gear. Formally known as TRIDONIC.ATCO, CMP Controls acquired the manufacturing plant and business from Austrian-based TRIDONIC late in 2013.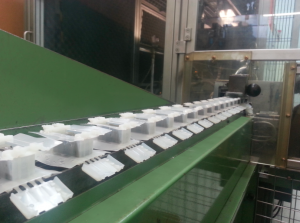 For over 35 years, the facility — which is over 40,000 square meters, and is located in 130 Melrose Drive, Tullamarine — has been manufacturing products that have been the powering source for lighting all around the globe. 
Since taking over the manufacturing business, CMP has continued to manufacture magnetic ballasts and transformers for local and global markets. This week, let's take a look at how Automation is employed at CMP Controls to give the company a competitive edge. 
Automation plays a vital role in the manufacturing landscape in Australia. With the low cost of labour in many Asian countries; and in order to streamline their manufacturing process, bring down the cost of labour and improve a higher quality standard, automation is one of the key tools manufacturers in Australia need to employ.
The components that make up CMP products are quite complex and rely on various production and assembly stations before they can be tested for quality, warehoused and distributed to customers. In the early stages of the company, products were manually produced and manually assembled.  This was a timely exercise, greatly affecting the volumes that were produced. By the time when the plant was experiencing it's biggest growth, and basically every down light needed a transformer, the plant was incapable of meeting demands with the manual methods that were employed.  
The decision to automate a large portion of the manufacturing process at the Melbourne plant was something that the company has never looked back on.  As the manufacturing landscape in Australia constantly evolves, more local manufacturers need to embrace Advanced Manufacturing and Automation within their production, similar to a way the CMP Controls plant employees see it.
Products literally start in their raw form on one end of the cycle, and through the various production stations, take form and come out the other end as basically a fully functional ballast or transformer. Management at the plant believes that the quality of production through an automated process is something that can not be matched. And although there are various custom products that might still have a manual component within the production cycle, the majority of the product range is kept consistent, because of the automation process.