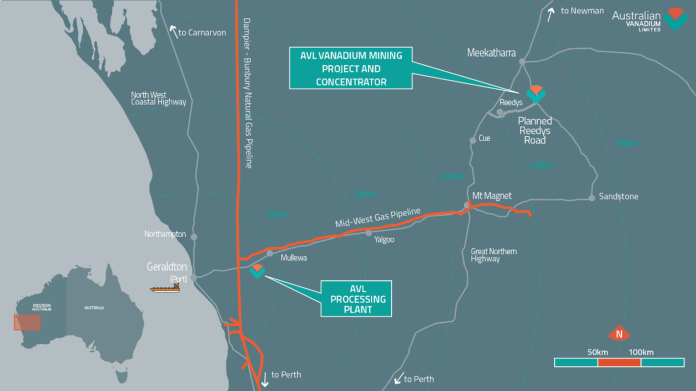 Resource company Australian Vanadium Limited (AVL) has been awarded a $49 million grant under the Australian Government's Modern Manufacturing Initiative Collaboration Stream.
The company will use the funding to develop its flagship Australian Vanadium Project which was awarded Federal Major Project Status in September 2019 in recognition of its national strategic significance as a battery and critical metal project.
AVL is collaborating with ATCO to incorporate green hydrogen into the Project which will fuel the processing of vanadium to a >99.9% pure V2O5 product, suitable for the critical mineral and battery markets.
The V2O5 will then be processed into vanadium electrolyte to fill vanadium redox flow batteries (VRFBs) at the AVL vanadium electrolyte manufacturing plant which is currently under construction in Kwinana, Western Australia.
"AVL is delighted to have been awarded this grant from the Australian Government. Our project will create hundreds of jobs in Australia and help to build the critical vanadium industry both locally and internationally," said Managing Director, Vincent Algar in an ASX announcement.
"We have developed an innovative and collaborative approach to building a fully integrated project, from mine through to processing and end use in the steel and battery markets.
Our collaborations are allowing us to build a project with unique social and environmental benefits. We look forward to working with our partners to bring the Australian Vanadium Project into production and further develop downstream opportunities for green steel and the vanadium redox flow battery market."
Last year, the company raised $8.7 million to become the next global vanadium producer.
Image credit: https://www.australianvanadium.com.au/announcements/avl-awarded-49-million-federal-government-manufacturing-collaboration-grant/