South Australia's economy has suffered another major blow as industry insiders said that building a fourth Air Warfare Destroyer (AWD) was "off the table", prompting calls for State and Federal Governments to intervene and address the situation.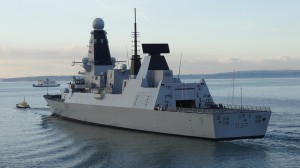 The first three air warfare destroyers are currently under construction at Techport, with the third scheduled to be completed by 2017.
According to the article on The Australian, the cancelation of the fourth AWD, which was seen as a bridge across the "valley of death", before the Future Submarine project kicks off in 2020, puts the entire project as well as 4000 AWD jobs in jeopardy as jobless figures climbed to a 12-year high following the wave of impending high-profile departures of companies such as Holden and Toyota.
Earlier this week the Federal Government confirmed it was no longer committed to building 12 submarines, spreading fear and panic that the $40 billion project — which was set to employ thousands — will shrink.
Defence Teaming Centre Chief Executive Chris Burns said the cancellation of the fourth AWD will cost 1800 workers their jobs, with similar number from associated supply chain companies also on the brink of becoming jobless.
"At the moment the AWD workforce will start being laid off and we won't start on submarines till 2020. But for (supply chain companies) the work dries up earlier because they've already delivered their parts," he said.
Craig Williams, Managing Director of J&H Williams, a metal fabrication company that supplies Defence, said his company operated on the assumption that there will be no fourth AWD. He said there was no confidence without certainty in the industry.
"I'd like them to release their Defence Capability Plan today so we can start making a strategy, but the reality is they can't," he said.
Business South Australia Chief Executive Nigel McBride said he feared SA could turn into a "basket case" like Tasmania following the series of "very significant seismic shifts" that shook the state.
"They're all coming pretty much one after the other," he said.
"It's time the Federal Government did something but in the end we all own this problem; the State Government, the Federal Government, everybody has a role to play."