Minister for Manufacturing David Hodgett has welcomed the announcement by the Air Warfare Destroyer Alliance that BAE Systems has been awarded three additional blocks of the Air Warfare Destroyer (AWD) Program, which will allow the company to retain their AWD workforce until the Federal Government makes a decision regarding the allocation of future naval shipbuilding opportunities.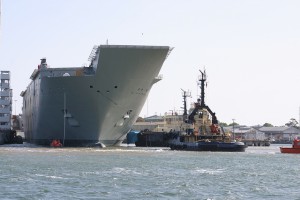 Minister Hodgett said the announcement was an important step towards retaining the skilled Williamstown jobs which followed extensive advocacy by the Victorian Coalition Government and BAE.
"BAE have a fantastic track record of delivering on major naval contracts, and today's decision by the AWD Alliance to reallocate three additional blocks to the Williamstown Shipyard is a great vote of confidence in Victoria's shipbuilding capabilities," Mr Hodgett said.
Mr Hodgett stressed that securing additional work was crucial in retaining the company's highly skilled workforce, saying it was fully qualified to do additional work on the AWD project and be involved in elements of the replacement replenishment ship project, as well as in designing and building the steel hull Pacific Patrol Boats and Australia's future frigates.
"The Napthine Government has advocated strongly to successive Federal Governments that ongoing naval work needs to be allocated to BAE to ensure Victoria's skilled shipbuilding workforce is not lost. This includes the Premier raising the matter with the Commonwealth Government when he was in Canberra for the recent Council of Australian Governments (COAG) meeting," Mr Hodgett said.
"As recently as last week, the Victorian Government made representations to the Senate References Committee hearing and we will be making further submissions to that Committee and to the 2015 Defence White Paper advocating that shipbuilding projects need to be bought forward and further work allocated to Victoria. Victoria is the natural home for Australia's Naval Surface Shipbuilding industry and the Federal Government should ensure an ongoing pipeline of works to keep our skilled shipbuilding workforce based in Williamstown."
He said the Victorian Government supported the Federal Government's intention to improve the troubled AWD project and that the decision by the AWD Alliance recognised that BAE is the best placed shipyard to undertake work on the project.
"The Napthine Government recognises that the Federal Government inherited many problems in relation to naval shipbuilding and I commend them on reviewing the AWD program and committing $78 million to commence work on the future frigate project with the aim of them being built in Australia," Mr Hodgett said.
"I welcome the decisions that the Federal Government have so far taken to address the problems they inherited from the previous government but more decisions are needed to secure the long term future of BAE at Williamstown."
He said The Victorian Coalition Government would continue to work co-operatively with the Federal Government to secure the future of the Williamstown shipyard.
"Today is a first step towards long term securement of these skilled jobs at Williamstown. I will continue advocating on behalf of BAE and the Williamstown workforce to ensure the good news keeps coming."