BAE Systems has announced that it has submitted a bid for the LAND 400 Phase 2 – Mounted Reconnaissance Capability programme.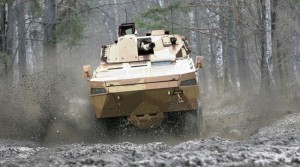 If selected, BAE will build and maintain 225 new combat vehicles in Australia .
For the tender, the company has joined forces with Finland's Patria. The companies offer the AMV35 Combat Reconnaissance Vehicle (CRV) which has been selected by seven nations with more than 1,400 contracted vehicles. BAE Systems is the prime contractor in this offer and Patria will provide vehicle technology and platform.
"The AMV35 is an outstanding combat reconnaissance platform that integrates BAE Systems-Hägglunds' E35 turret onto a modern, agile, highly protected Patria Armoured Modular Vehicle (AMV), both of which have attained a fearsome reputation based on their operational performance in Afghanistan. It represents a low risk and affordable step change in protection, mobility and firepower for the Australian Army in any future operations. We look forward to being the given the chance to demonstrate the exceptional capabilities of this armoured vehicle system," said BAE Systems Australia Chief Executive Glynn Phillips.
"The AMV35-vehicle offers a very strong solution with extraordinary operational performance in various situations and threats. Its protection, firepower, situational awareness systems, and mobility are unrivalled," said Mika Kari, President of Patria's Land Business Unit.
The AMV35 will be manufactured in Australia. The final decision will be will be made by the Australian Department of Defence in the beginning of 2018.
LAND 400 is a multi-billion dollar project that will replace the Australian Defence Force's Australian Light Armoured Vehicle (ASLAV).