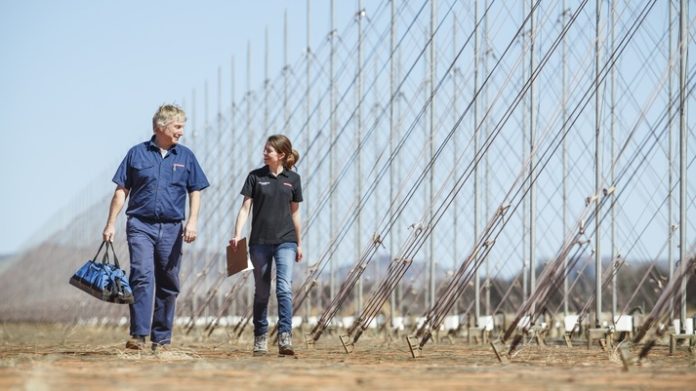 BAE Systems Australia has won a $1 billion contract to upgrade Australia's long-range high frequency radar network.
The Jindalee Operational Radar Network (JORN) protects the nation's coastal approaches through a network of three over-the-horizon radar systems that use the ionosphere to monitor air and sea movements across at least 37,000km2.
BAE Systems Australia Chief Executive, Gabby Costigan, said the $1 billion JORN upgrade will be carried out by about 500 highly skilled technicians and engineers working for BAE and in the company's supply chain.
"As a world leader in High Frequency radar technology, we are proud to have been selected to deliver an important upgrade to Australia's most complex and critical Intelligence Surveillance and Reconnaissance capability," Mr Costigan continued.
"Together with our partners, we are committed to ensuring a high level of Australian industry and academic participation in JORN. Our collaborative approach will allow for the application of rapidly developing technology to ensure Australia maintains a capability edge and superior situational awareness to ensure our northern approaches are secure."
BAE said the upgrade will be delivered in collaboration with leading defence systems integrator Raytheon Australia, South Australian SME Daronmont Technologies and infrastructure specialist RCR Property Services, with more than 20 specialist Australian SMEs to participate in the supply chain.
According to the company, its Joint Open Innovation Network (JOIN) will also focus on activities to support the upgrade of JORN and the development of future JORN and intelligence surveillance reconnaissance capability.
"The Company has committed to contribute up to $10 million to the initiative that involves partner universities – Flinders University, University of Adelaide and the University of South Australia – to support the creation of new Defence-focused courses and targeted research and development," reads BAE Systems ' media statement.
"JOIN will support 60 graduate positions over the life of the JORN upgrade and will also support industry with the establishment of an Innovation Laboratory that will provide a secure facility to allow greater collaboration to develop new, or improve existing, defence technologies."
Image credit: www.baesystems.com