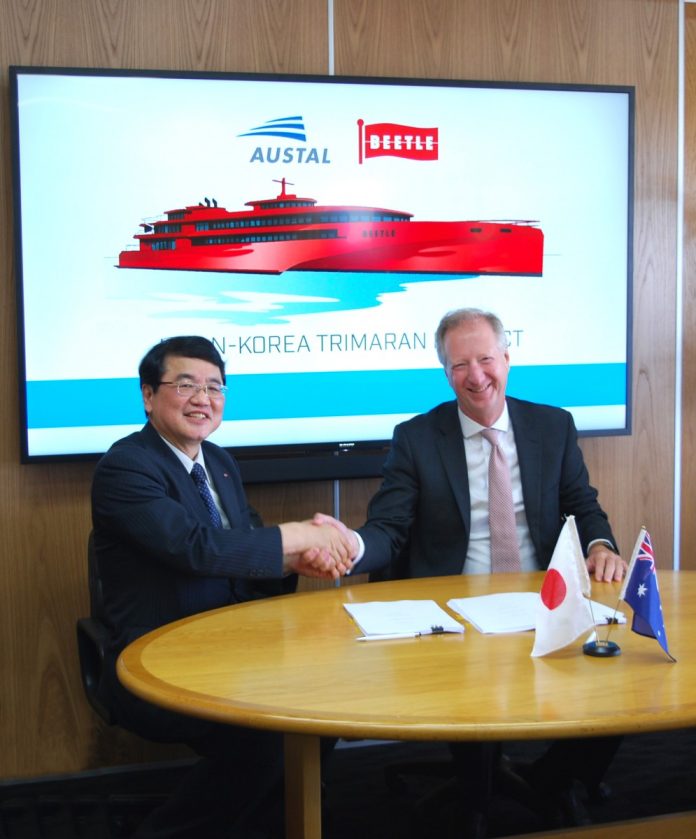 Austal has been awarded a $68 million contract to design and build an 83 metre trimaran ferry for JR Kyushu Jet Ferry, a group company of Japan's Kyushu Railway Company.
Austal CEO David Singleton said the contract made for an outstanding start to 2018 for Austal, following a record year for commercial vessel sales in 2017.
"Austal congratulates JR Kyushu Jet Ferry on the selection of our proven trimaran platform to expand their Japan to South Korea route," Mr Singleton continued.
"This exciting new vessel will deliver excellent seakeeping and an unparalleled customer experience to JR Kyushu's ferry network."
The 83 metre trimaran, which will service JR Kyushu Jet Ferry's key strategic route between Fukuoka, Japan and Busan, South Korea, will have a capacity for 502 passengers and an operational speed of 37 knots.
Mr Ben Marland, Vice President Sales and Marketing, Austal, said vessel will feature a customised interior, developed by respected Japanese design house, Don Design Associates, led by Mr Eiji Mitooka, famous for the luxuriously appointed interiors of JR Kyushu's high-end passenger trains.
"Austal's unique trimaran hull design has truly revolutionised the commercial and defence vessel markets. This is the first high-speed trimaran ferry we have placed in to Japan and we are delighted to be partnered with JR Kyushu Jet Ferry on this prestigious route," Mr Marland added.
"With 9 Austal trimarans already in operation around the world, another 7 under construction and now 5 on order, it's fair to say we are seeing a transformation in the market – and genuine customer enthusiasm for the proven technology, efficiency and capability of our design."
According to Austal, construction of the vessel will commence in late 2018, with services to begin prior to the Summer Olympic Games in Tokyo in 2020.
Image credit: https://www.austal.com