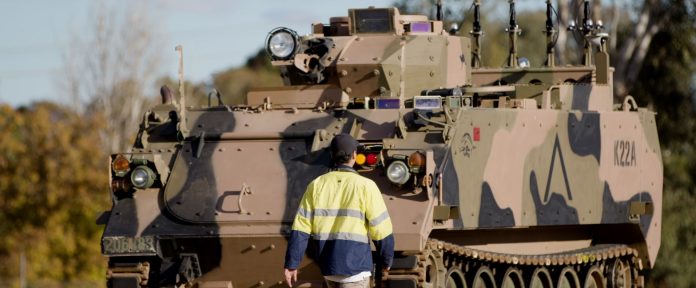 Media Release by BAE Systems
Using locally developed, world leading autonomous technologies, BAE Systems Australia has delivered twenty M113 AS4 Optionally Crewed Combat Vehicles (OCCVs) to the Australian Army.
Each M113 AS4 is fitted with a Vehicle Management System, derived from BAE Systems' domain agnostic autonomy technologies which enables it to operate autonomously.
The demonstrator vehicles are now providing crucial insights into the capabilities of integrated autonomous technologies on future battlefields.
Four vehicles were recently trialled as part of Exercise Koolendong, a high-end live-fire warfighting exercise in the Northern Territory. Army successfully tested the limitations of the vehicles and the autonomous capability in harsh conditions within the combat environment.
BAE Systems Australia Director of Red Ochre Labs Adam Watson said:
"It's exciting because we have a unique opportunity to partner and work with Army to develop this technology together. This way we can ensure the best capability and value for money"
The project began in 2019 with the team installing hardware and software into two M113 AS4 Armoured Personnel Carriers to allow soldiers to operate them autonomously.
The scope was extended in 2020 with a further 16 M113 AS4 vehicles converted to OCCVs, enabling them to be operated autonomously or as a standard crewed vehicle.
The project will now enter the next phase, where Army will test and trial the fleet of OCCVs through a multitude of activities. BAE Systems' team will continue to work closely with Army to capture feedback and enhance the autonomous capability and aligning technology through capability upgrades.
BAE Systems' sovereign capability in autonomous technologies is built on more than 30 years of complex autonomous projects.
The company continues to invest in Australia's world leading capabilities as part of the Trusted Autonomous Systems Defence Cooperative Research Centre, and is proud to enhance the research skills and capabilities of the Australian Defence industry through collaborative research across defence, industry and academia.