Junior iron ore miner BC Iron and mining services contractor Watpac have announced that they will take their dispute over BC Iron's Nullagine joint venture contract to court.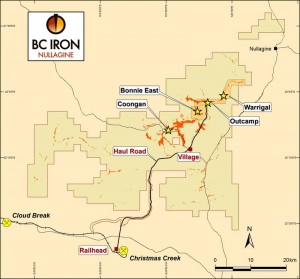 The Nullagine mine is located in the Pilbara region of Western Australia and is 75% owned by BC Iron and 25% owned by Fortescue.
In an ASX Announcement, BC Iron said that it has commenced legal proceedings against Watpac and is seeking recovery of damages.
The company claims that Watpac failed to comply with its primary contractual obligations.
"BCIN (in its capacity as manager of the NJV) filed a writ of summons and statement of claim in the Supreme Court of Western Australia against Watpac seeking the recovery of damages and those documents are being served on Watpac," reads BC Iron's ASX Announcement.
"BCIN considers that during numerous periods of the term of the mining services contract, Watpac failed to comply with its primary contractual obligations owed to BCIN as manager of the NJV causing damage to BCIN."
Last April, BC Iron terminated Watpac's mining, crushing and screening contract at the Nullagine mine three months earlier than scheduled.
The company said that it had reached that decision as a result of plunging iron ore prices.
Watpac claims that it is owed $12.5 million by BC Iron over the work it carried out at the mine.
"Despite a continued recovery expectation, in light of BC Iron's most recent public announcements relating to the company's financial position and decision to suspend works at its Nullagine mine, the Board has determined that a conservative accounting position will be taken and Watpac will provide for all amounts previously accrued in relation to this dispute in the Group's 31 December 2015 financial result," Watpac said in an ASX release.
"Pleasingly, the Group's underlying financial result for the 31 December 2015 half year will remain unaffected and despite this disappointing contractual dispute, Watpac has continued to improve its financial strength since 30 June 2015, holding over $200M in gross cash reserves as at 30 November 2015."