The Ford Motor Company revealed last week that it filed for a record number of patents in 2015 – 5,872 to be exact – in areas including autonomous cars, wearable devices and ride sharing.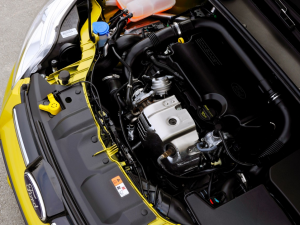 The company's CEO Mark Fields is persistently pushing the company toward innovation stating that he wants the automaker to be part of Silicon Valley.
"Our engineers and scientists are inventing ways to address mobility challenges more than ever – with more patent applications filed this year on car-sharing, wearables, bikes, cloud computing and in other areas to improve consumers' lives inside and outside the car," said Raj Nair, Ford executive vice president and chief technical officer.
"By hosting – and participating in – more internal hackathons and innovation labs, our employees are stepping up to show that inventing is a priority for leadership in the industry."
According to Ford, the company's number of patents for 2015 is 36% higher than 2014, while its filings related to electrified vehicles have almost tripled in the past 5 years.
Earlier this month Ford announced that it will invest $4.5 billion in electrified autos by 2020.
Other notable and interesting Ford inventions include a bike system that can detect bike lanes and alert cyclists of path deviations. Ford engineers also developed a front brake light to improve vehicle-to-vehicle communication and serve as a signal to pedestrians.
"The commitment Ford has made to innovation is commendable," said James Malackowski, chairman and CEO, Ocean Tomo, an intellectual property firm.
"The strength of Ford's patent portfolio has resulted in the company being named a constituent to the Ocean Tomo 300® Patent Index for five years."
Ford has also licensed a robotic test driving technology, "which saves time and spares human test drivers from such physically demanding tasks as driving over curbs and through potholes to prove vehicle durability."
For more info, go to www.ford.com