Thales Australia has inked an agreement with the Federal Government to provide 1,100 locally built Hawkei protected vehicles and over 1,000 trailers to strengthen Australia's defence force.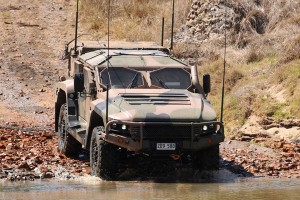 Under the terms of the $1.3 billion agreement, the vehicles will be manufactured at Thales Australia's production line in Bendigo, creating 170 jobs there and another 60 jobs in Victoria.
The Hawkei is set to provide similar protection as the ageing Bushmasters, which were also built by Thales, but will be light enough to be transported by an Australian Defence Force helicopter.
"This is a great day for the ADF and for Australian industry. Hawkei is a highly capable vehicle that will serve this country well for many years to come, and we are delighted that the Department of Defence has recognised the importance of this vehicle by reaching this milestone. We are proud to have been chosen to deliver this next generation of protected vehicles to our armed forces, and we stand by them ready to support and adapt it as their requirements evolve," said Chris Jenkins, CEO of Thales in Australia.
"We also thank our many suppliers on the program – companies in Australia and overseas that have been with us on this long journey, and who have played a significant role in shaping the Hawkei and contributing to its success. It's a great story about what Australian industry and international partnerships can achieve. As we move into the manufacturing phase, we will now be able to consolidate the work already begun across the Thales group worldwide to ensure the export success of this impressive vehicle."
The three and a half year production phase is scheduled to begin from mid-2017, with first deliveries expected towards the end of 2017.
The announcement was made by Defence Minister Marise Payne.
"The Government is committed to working closely with Australian industry to bring about a safer and more secure Australia. The Project LAND 121 Phase 4 contract to deliver the vehicles was signed today at Defence's Monegeetta Proving Ground near Melbourne," the Minister said.
"Since 2004, the Thales assembly line has been producing the highly successful Bushmaster, widely recognised as one of the finest vehicles of its type in the world. As Bushmaster production winds down, the start of pilot vehicle production in early 2016 will secure the highly skilled Bendigo workforce for full-rate production of the Hawkei in 2018."
The Andrews Labor Government has welcomed the announcement.
"This contract is a vote of confidence in Victoria's defence manufacturing industry that will boost jobs and benefit local businesses across the supply chain. We call on the Turnbull Government to support Victoria's defence manufacturing workers, and save more than 600 jobs, by placing an order to build offshore patrol boats at the Williamstown shipyards," said Minister for Industry, Lily D'Ambrosio.
"This announcement is great news for manufacturing, jobs and the local economy here in Bendigo. I congratulate Lisa Chesters for her hard work in bringing this contract to Bendigo," added Member for Bendigo East, Minister Jacinta Allan.