Back in May, Perth-based Sunvertec Pty Ltd launched its Xenos distributed inverter at the Australian Solar Council Solar 2015 Exhibition and Conference that took place in Melbourne.
Sunvertec's founders, Kevin and Alexander Davies conceived, designed and created the Xenos by completely reinventing the inverter from the ground up. Their novel approach reduces the size and removes costly electronic components from the system.
"People said it can't be done but we've broken the 99% efficiency barrier and we've set our sights on breaking the cost barrier of US$0.10/W before 2020," said Xenos Engineer and director of Sunvertec Pty Ltd, Kevin Davies.
Last week, the company finally revealed the key to their distributed inverter system – the "Distriverter", a small device installed in-line with the AC optimisers that completes the waveform.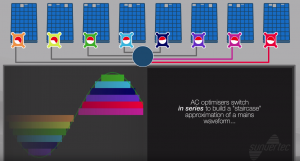 "The Distriverter allows for smaller and more efficient power conversion and will ultimately serve to drive down the cost of solar installations globally," the company said in a media release to Australian Manufacturing.
The company says that the Xenos distributor inverter design has the potential to deliver savings of greater than 60% over conventional microinverters.
Everyone who is interested to learn more about the technology is invited to attend the Q+A for Beyond Zero Emissions scheduled to take place today at the University of Melbourne.