In a bid to save the industry and to prevent the closure of Port Kembla, Australia's largest steel manufacturer and the Australian Workers Union have reached a historic agreement.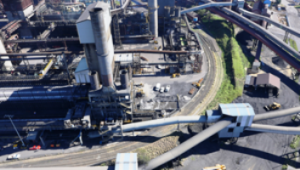 Namely, BlueScope has announced that it has reached a Memorandum of Agreement with unions and employees at Port Kembla that will enable the company to achieve its $200 million cost reduction target.
Union leaders accepted hundreds of job losses, a wage freeze and a restructuring of work practices in order to prevent the closure of the nation's biggest steelworks at Port Kembla.
As part of the agreement, around 300 manufacturing jobs and another 200 support and service positions will be slashed.
"The constructive engagement by all parties has been outstanding. This is major step towards achieving the $200 million cost saving target. But we still have a lot of work to do in the coming weeks, as steel prices remain under pressure from the global steel glut," said BlueScope Managing Director and CEO Paul O'Malley in an ASX Announcement.
"I feel that the positive vote from employees today is a significant step change improvement in our workplace – one that will result in a more cost efficient and flexible steelworks. We will provide a more detailed update on progress on delivering the $200 million savings by the time of our AGM in November."
The Australian Workers' Union Port Kembla Secretary Wayne Phillips said that workers had accepted real pain and sacrifice in order to keep the Illawarra steel industry viable and it was imperative for government to meet them halfway.
"Today was a vote as to whether or not the steelworks stays open or whether it shuts. It required courage for the result to go the way it did today. It's a tough moment, no doubt, but I'm at least satisfied that workers have voted to fight another day," Mr Phillips said.
"We simply can't roll the dice and allow the steelworks to shut. But here's our demand of the Baird Government: the workers here today have accepted very real pain – real sacrifice. So meet us halfway. Help support our jobs and back a Victoria-style local steel procurement plan. Mike Baird and his government are selling the Illawarra's public power lines to pay for billions of dollars' worth of infrastructure for Sydney. The very least they could do is use Illawarra steel in the process."