Bombardier Transportation, the sole manufacturer of light rail vehicles in Australia, is the Gold Sponsor of the Australasian Railway Association's (ARA) 2016 edition of the Light Rail Conference and Exhibition which is taking place in Melbourne this week.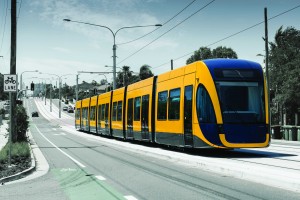 ARA's 3rd annual Light Rail conference and exhibition is a unique opportunity for professionals involved in manufacturing, the planning and delivery of projects and operational executives, to hear cutting-edge case studies and learn from successful projects in Australasia and throughout the world.
The Company is also hosting an exclusive site tour of its ultramodern production facilities in Dandenong, where the most influential leaders in light rail will take a journey through the design-engineering-manufacturing-servicing stages for Melbourne's iconic FLEXITY E-Class trams.
"Light rail is an attractive and advantageous solution for Australia's growing cities: It is a fast, clean and convenient transport mode proven to benefit citizens, local economies and the environment," said René Lalande, Managing Director of Bombardier Transportation Australia.
"Bombardier is Australia's only manufacturer of light rail vehicles, delivering local products for local conditions."
Bombardier's FLEXITY E-Class trams were first introduced onto the Melbourne light rail system in 2013. The company has thus far delivered 32 of the original 50 tram order to operator Yarra Trams. Late last year, Bombardier signed its first option with Public Transport Victoria (PTV) to supply a further 20 trams to the Melbourne network, increasing the total number of trams ordered to 70.
Bombardier's Melbourne fleet order is supported by 300 Australian suppliers, most of them based in Victoria, which has led to the trademark, "Made in Melbourne for Melbourne".
In mid-2014, Bombardier and its partners in the GoldLinQ consortium completed the Phase 1 of the successful Gold Coast light rail system in Queensland.
The new system has been designed to accommodate up to 75,000 passengers per day and will provide vital transport services during the Commonwealth Games in April 2018.
Bombardier, which has been active in Australia for more than 60 years, has a workforce of more than 1,000 employees across 21 locations and is a complete provider of rail solutions and services.