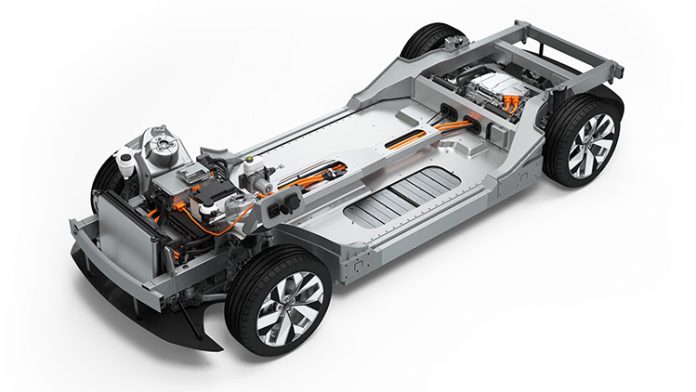 Bosch Group's Mobility Solutions business in going from strength to strength, winning electromobility orders – including production projects for electrical powertrains for passenger cars and light trucks – worth roughly $13 billion since the beginning of 2018.
Despite the fact that the Mobility Solutions sector is developing better than the global automotive production in 2019, the company is approaching the mobility of the future with an open mind, simultaneously refining both conventional powertrains and fast-tracking electrification.
Dr Volkmar Denner, chairman of the Bosch board of management, says the company is investing about 3 billion euros each year in developing electronics and software in an effort to make mobility automated, connected, personalised and climate-friendly.
"The objective is to keep people mobile in an eco-friendly way and to ensure that mobility is accessible to everyone," Mr Denner says.
Bosch is a recognized leader when it comes to climate action and is targeting to make all its locations worldwide carbon neutral from next year.
The company is also devoted to developing mobility solutions that have no appreciable impact on global warming and air quality and is investing some 300 million euros in emissions-friendly mobility each year.
"When it comes to electromobility, Bosch has a broader footprint than other companies – from bikes to trucks, and from mid 48-volt hybridization to the fully electric powertrain," Mr Denner adds.
The company is looking to achieve a leading position in the market with its 48-volt battery, and has conducted a long-term cooperation agreement with the Chinese company Contemporary Amperex Technology Co. Limited (CATL) for the production of battery cells.
At the start of the year, Bosch anticipated achieving sales of 5 million euros by 2025 with electromobility components and systems for passenger cars and light trucks, but Mr Denner says the company now expects to exceed that figure.
"Whatever the technology that brings about emissions-free mobility, we have to get the market to accept it. We will only manage that with affordable solutions. If we don't offer them, we won't help stop global warming," Denner says.
He says the company also wants to create a mass market for fuel cells and is working towards making the manufacture of this still expensive technology more cost-effective.
"Bosch is making alternative powertrains affordable," Denner says.
Bosch is also posting substantial business success in automated driving, with sales of 2 billion euros in this area.
For the next levels of automated driving, the company is planning to invest 4 billion euros up to 2022.
"For the US and Asian markets, Bosch is currently developing level 2 systems that allow drivers to take their hands off the wheel on the freeway," Mr Denner says.
"In Germany, Bosch and Daimler were recently granted the world's first approval for a level 4 system – automated valet parking in the parking garage of the Mercedes-Benz Museum in Stuttgart.
"This automated valet parking service has thus progressed beyond the prototype stage. By the end of 2021, it is expected that a dozen other parking garages will be equipped with automated valet parking."
Image provided