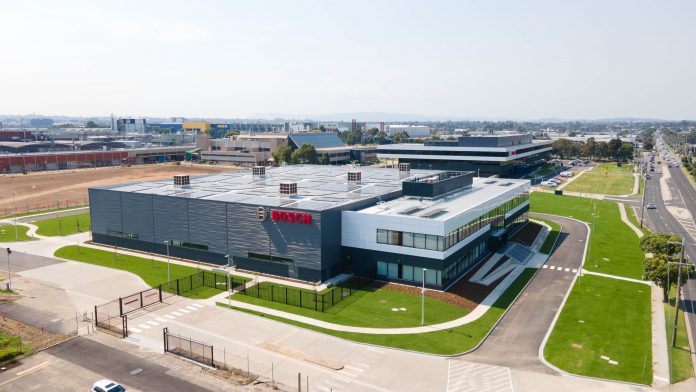 Media Release
Bosch is elevating manufacturing in Australia. The global supplier of technology and services has opened its new $17 million Manufacturing Automation Centre in Clayton, Victoria. The purpose-built facility now houses Bosch Australia Manufacturing Solutions (BAMS) and the Rexroth Drives and Controls businesses. The establishment of the new centre completes the consolidation of all Bosch's businesses in Victoria at its Clayton campus, boosting strategic collaboration and innovation.
President of Bosch Oceania, Gavin Smith, said "Manufacturing automation is now the fastest growing part of our business. We are leveraging our more than 50 years of manufacturing experience and factory automation know-how and drawing on the global expertise within the Bosch group, to help Australian manufacturers become fit for the future."
The Victorian Minister for Industry Support and Recovery, Martin Pakula, said "Victoria is the place for innovators like Bosch Australia to grow and thrive, due to our skilled workforce, established supply chains, engineering expertise, education excellence, and research and development capability. We will continue to support businesses to capitalise on the opportunities and talent available in Victoria, ensuring we remain at the forefront of advanced manufacturing, innovation and technology."
Automating manufacturing for Australian businesses
Bosch is committed to strengthening the competitiveness of the Australian manufacturing sector. BAMS has become one of the country's leading factory automation companies, working with a diverse array of blue-chip, mid-tier and start-up manufacturers to automate their manufacturing.
Most recently, BAMS was engaged by digital diagnostics company, Ellume, to automate the high-volume production of its rapid COVID-19 tests. BAMS will build and install state-of-the-art automated assembly lines to increase production capacity. The manufacturing lines, which will provide Ellume with one part per second capacity, are built onsite in Clayton, for installation at Ellume's Richlands facility in Queensland. BAMS is also building a further 16 lines for Ellume's production facility in the United States.
BAMS is highly regarded in the biotech sector, currently working with CSL to create a high-tech automatic materials handling line for their manufacturing facility in Broadmeadows. BAMS was also part of the industry consortium led by Grey Innovation that built ventilators in the fight against COVID-19.
Hydraulics for the future
Also occupying the new centre is the Victorian arm of Bosch Rexroth Australia. With significant investment in new equipment, the business has increased its support to customers in Victoria and offers advancements in repair and testing technologies, including industry 4.0 solutions.
Bosch Rexroth Australia is focused on meeting its customers' needs into the future. Its team of expert hydraulics and application engineers continually develop new technologies, working closely with local customers to develop state of the art solutions. This support provides technical solutions to design challenges in a changing global market. With a complete portfolio of drive and control technologies, Bosch Rexroth represents a one-stop source for controls, electric drives, hydraulics, mechanics, and system solutions.