Platinum Elevators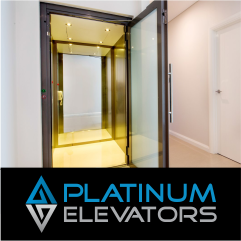 Brief Description:
Platinum Elevators guarantee the highest quality luxuriously designed elevators. We are committed to exceeding our customers expectations with the highest quality Italian made Residential and Commercial Lifts, custom designed with complete flexibility and value for money.
Business Description:
A locally owned and operated company, very passionate about what we do, is Platinum Elevators. We are so proud of our motivated, friendly and highly professional team who supply the very best services and products to satisfy the needs and requirements of the Australian industry we serve. We treat every client as if they are a family member and our company, that is built on core family values, is committed to delivering affordable luxury. We can and will go the extra mile to make certain all your needs are met.
There are more than 25 years of design and manufacturing experience built into the wide range of products Platinum Elevators Suite Lift offers. Every one of the Suite lift packages result in the best quality, stylish and efficient lift systems based on today's latest cutting-edge technology.
The manufacture of suite lifts uses energy-efficient and innovative machinery like the automated Fiber Optic Laser Cutting machine. A 100 kw solar power system which is installed at the manufacturing plant is what the entire production relies on. Our commitment to a greener future is confirmed by our factory being energy self-sufficient!