Cardia Bioplastics, a renowned manufacturer and supplier of Cardia Biohybrid and Cardia Compostable resins, films, bags and custom finished products, has acquired three new film extrusion and bag making machines to expand its production capacity and meet increasing demand for its film and bags products.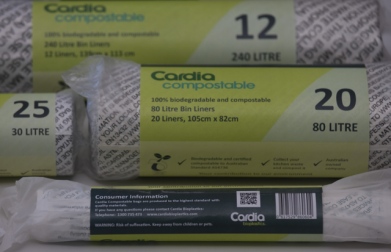 According to the media release by Cardia Bioplastics, the company is planning on acquiring additional three machines by the end of the June quarter, which is expected to further increase its finished products capacity and enhance sales margins.
Cardia's proprietary technology, its reputation for a price competitive high quality product and the growing global demand for quality sustainable bags, films and other packaging have resulted in growth in finished products and revenues which are expected to continue to grow in the foreseeable future.
The company's focus has been firmly placed on finished products sales and its latest technological acquisitions will yield additional 1.5 million bags per month from each of its production lines.
"The market dynamics are shifting. Over the past few years brand owners, retailers and packaging companies have commenced using bioplastic resins, films and packaging to replace conventional plastics. In parallel, Councils and waste management companies have started programmes to separate organics from landfill, using compostable bags to divert organic waste from households and industry to composting. Both developments offer growth opportunities for the Cardia Bioplastics business," said Dr Frank Glatz, Cardia's Managing Director.
"These are exciting times for Cardia Bioplastics. By focusing on finished products sales we stand to generate strong revenue streams. With orders flowing in from major international companies, well-known brand names, Councils and Governments around the globe, Cardia is reaping the results of years of developing innovative solutions, as well as technological and product refinement to deliver high quality products at competitive prices," said the company's Chairman, Mr Richard Tegoni.