The Australian Renewable Energy Agency (ARENA) has granted Carnegie Wave Energy 1.5 million for the manufacture, construction and deployment of CETO units and the commissioning of the Perth Wave Energy Project.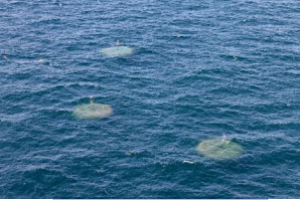 According to Carnegie's ASX announcement, the commissioning milestone was awarded as all operational components of the project are installed and operational and practical completion was reached on all project construction activities.
The Perth Project is the first commercial-scale, grid-connected wave energy array operating anywhere in the world. The three CETO Units have cumulatively operated for more than 9,500 hours.
"As previously announced, Carnegie has now retrieved CETO 5 Unit #1 as part of the overall Project maintenance strategy," the company said.
"This Unit is now undergoing inspection onshore after operating for over 4,000 hours. Carnegie's aim is to redeploy Unit 1 and progressively retrieve Units 2 and 3 during winter when installation and retrieval conditions are more challenging."
The CETO 5 technology in the Perth Wave Energy Project is configured to utilise the CETO pumps to pressurise water and deliver it onshore via an underwater pipe. Then, onshore, high-pressure water is used to drive hydroelectric turbines, generating zero-emission electricity.
The high-pressure water can also be used to supply a reverse osmosis desalination plant, replacing or reducing reliance on greenhouse gas-emitting, electrically-driven pumps usually required for such plants.
Carnegie has spent a decade developing the CETO 5 technology, with its CETO 6 ARENA-supported Project – a 3 unit array with 3MW total capacity – in its preliminary design phase.
"Planning and design work has begun on Carnegie's next generation CETO 6 technology, supported by $13 million ARENA funding. These larger units are aiming to deliver around four times the capacity of CETO 5 units, improving efficiency and reducing energy generation costs," said ARENA CEO Ivor Frischknecht at the official launch of the Perth Project's onshore power station four months ago.
"This progress is a clear example that given time, and with the right government support, emerging renewable energy technologies can progress along the innovation chain towards commercialisation. The lessons learned through Carnegie's ARENA supported projects are being shared with the renewable energy industry to help reduce the hurdles facing other wave energy projects."