ABB has announced that it has delivered power and automation solutions for grinding mills and mine hoists, as well as hundreds of motors and energy-saving drives, at Boliden AB's Garpenberg mine in Hedemora, 180 km from Stockholm, Sweden, transforming the mine into the most-efficient and productive zinc, lead and silver mine in the world.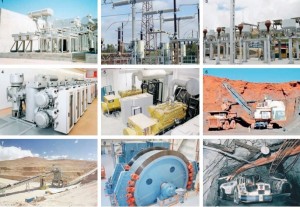 The transformation lasted four years and was completed in 2014. The successful completion of the $580 million project at Garpenberg resulted in a milled ore tonnage increase of 50 percent to 2.22 million tonnes. By the end of this year, the company expects the milled ore tonnage to increase to 2.5 million tonnes.
According to the press release, ABB's System 800xA automation platform – installed in over 10,000 process industry facilities in over 100 countries – is the "backbone" of Garpenberg's control facilities, efficiently coordinating sub-operations including power and automation for mill drives, hoists, ventilation system and crushers.
"ABB's comprehensive power and automation solutions for 21st century mining are a powerful demonstration of how the Internet of Things, Services and People is fundamentally changing the mining industry. After nearly a century working together, ABB is proud to play a major role in helping keep Boliden at the vanguard of mining efficiency and productivity," said Peter Terwiesch, president of ABB's Process Automation division.
ABB also provides 24/7 remote support to both new hoists in Garpenberg, via the company's new services Hoist Performance Monitoring Service (HPMS).
"Mines like Garpenberg face increased environmental regulations, labour and energy costs and heightened demand from the public and employees for safety," said Hans Jönsson, General Manager at Boliden Garpenberg.
"Boliden is working with ABB to address these hurdles, deploying high levels of automation and integration to ensure that mining here continues for years to come."
ABB's "Next Level Mining" strategy is aimed at securing the future of the mining industry via integrated operations and advanced information technology offerings. The approach has helped numerous companies overcome the challenges of rising costs of exploration and development, volatile market prices, health and safety of workers and environmental regulations.
Click here for more detailed information.