The Construction, Forestry, Mining and Energy Union (CFMEU) has announced that it is negotiating with the Textile, Clothing and Footwear Union of Australia (TCFUA) over a possible merger.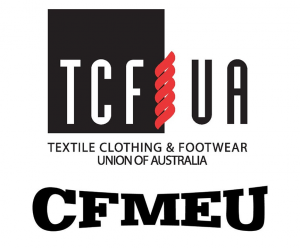 "We want our members' future to be in the best possible union – one that is strong and effective. The CFMEU is a great union. We have chosen to enter into discussions with them because they are a union that campaigns for jobs as well as for workers' rights and conditions," TCFUA National Secretary Michele O'Neil said in a media release.
"The TCFUA is a campaigning union. It has campaigned around protecting and advancing the interests of some of the most vulnerable people in the community, particularly outworkers. They are a progressive union that supports policies designed to build a better, fairer and more progressive country," said CFMEU National Secretary Michael O'Connor.
The announcement comes just a week after CFMEU revealed that it has begun negotiations with the Maritime Union of Australia (MUA), also over a possible merger.
"Our union has a long, proud 130 year history of being forward looking and fighting for our members. The world of work is changing – industries, the labour market and the nature of work are all changing and unions have to evolve too," added O' Neil.
"Any proposed merge would be put to a vote of TCFUA members. Once endorsed by the union membership, the unions would then proceed to meet requirements under the relevant industrial legislation."