BlueScope Steel has announced that it will continue to make steel at Port Kembla in New South Wales' Illawarra region.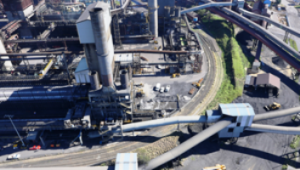 In an ASX Announcement, the company said that the decision to continue with steelmaking operations at Port Kembla was reached after it had received commitments from employees, unions and the Government of New South Wales.
"We applaud the contribution by our employees, site management and the combined unions in helping to secure $60 million per annum in labour cost savings. This was an essential step in creating a more flexible and productive steelworks," said BlueScope Chairman Graham Kraehe AO.
"We also thank the NSW Government for deferring $60 million of payroll tax payments over the next three years, as well as reductions in other charges. The arrangement we have struck demonstrates the Government's clear support for our employees, our business and the Illawarra and it has been a key component in the Board's decision to keep the Steelworks open."
BlueScope Managing Director and CEO Paul O'Malley said more than $100 million in raw materials, operational and services costs would be eliminated.
"We have made progress more quickly than expected on the cost reductions within our control and may in fact outperform in this area – a necessary requirement given steel prices continue to fall," said Mr O'Malley.
"Positive progress has also been made on workplace reform under the Enterprise Agreements, and on NSW government fees, charges and taxes. "In New Zealand, at Glenbrook Steelworks, good progress is being made on the delivery of the targeted NZ$50M savings, but there is more work to do."
Two weeks ago, Australia's largest steel manufacturer reached a Memorandum of Agreement with unions and employees at Port Kembla that will enable the company to achieve its $200 million cost reduction target.
"The ongoing lesson is that to continue to make steel in Port Kembla and also at Glenbrook in New Zealand, we must remain cost competitive and continue to deliver value. To be truly sustainable, the costout benefits must be delivered and permanent. We recognise this has been an especially tough time in the Illawarra and in Glenbrook in New Zealand, and we are grateful for the support from all our employees, customers and communities," said Mr O'Malley.
"Today's decision also means the Company is now leveraged to the upside of a future return to improved steel market spreads. It's a cyclical business and at some point we expect the cycle to turn back in our favour."